'Community' Cast Spoofs Season 4's Delayed Debut on 'Troy & Abed In the Morning'–Video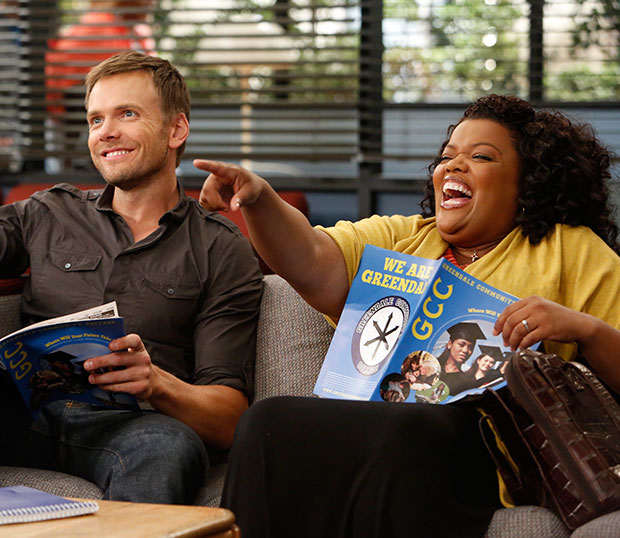 The last few months have felt like the darkest timeline for fans of Community. First, NBC axed the cult fave's creator and showrunner, Dan Harmon, following behind the scenes conflict that included a high-profile feud between Harmon and series star Chevy Chase. Then there was word season four would be relocated to the graveyard shift timeslot of Friday at 8:30 to make room for Annie's Boobs' now defunct solo vehicle, Animal Practice. Even then, Community wouldn't return until Oct. 19, well after the rest of NBC's comedies had debuted. Finally, the network pushed back the season premiere indefinitely. Nothing short of a Norwegian troll could instill greater dread in the hearts of Community's fans.
But fear not, Greendale human beings! The cast of your favorite show feels your pain, and to prove it Donald Glover and Danny Pudi have shot a new installment of their alter egos' faux morning show, Troy & Abed in the Morning, featuring the rest of the Greendale Seven: Britta (Gillian Jacobs), Shirley (Yvette Nicole Brown), Annie (Alison Brie), Jeff (Joel McHale), and Pierce (Chevy Chase). The goal here? To convince us of the ironclad "logic" of Community's indefinite delay and that October 19 is only a state of mind—"a feeling within us all," if you will. To quote Shirley, "That's nice." Check it out:
Nothing short of a Dreamatorium could be a better glimpse at season four, huh? Of course, not much has changed for the world's quirkiest study group other than Abed adding a new bowtie to his collection, the Dean (Jim Rash) having possibly greenlit Animal Practice, and the former General Chang (Ken Jeong) having completed his descent from Greendale Dictator to one-man flash mob. Notice how he's wearing a felt goatee, much like Evil Abed before him. Since Chang is already evil in our universe, does this mean that Good Chang made the quantum leap and now resides among us?
There's no question where I'll be when Community finally returns: glued to my TV set. But in the words of the immortal Inspector Spacetime, "The question is not where…but when." Hopefully very soon.