Jonathan Banks' Casting Shows 'Community' Is Where 'Breaking Bad' Characters Go After They Die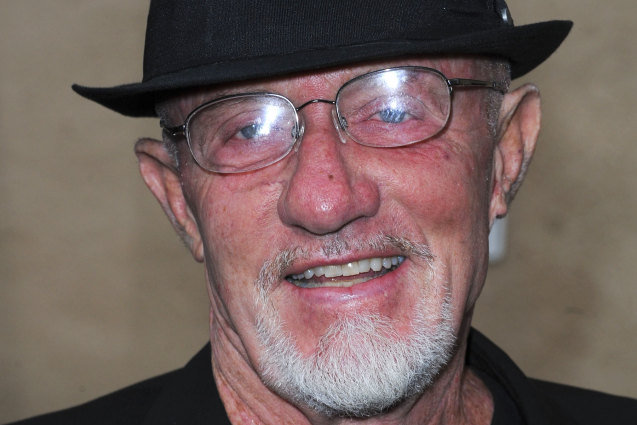 There are a multitude of theories and faiths regarding life after death. Do we ascend to a heavenly kingdom of cloud-paved walkways and nonstop harp music? Do we reincarnate again and again as different kinds of people, animals, and insects? Do we land teaching jobs at a third-rate Colorado community college? That seems to be the case for a certain subset of the human population. As our calculations lead us to believe, when a major player dies on Breaking Bad, he or she is reborn in the universe of Community. It happened with Gus Fring, who took new form as Pierce Hawthorne's resentful half-brother Gilbert in a Season 3 episode of the NBC sitcom a year after his demise on Vince Gilligan's drama. And now, it will happen again: Jonathan Banks, the grimacing actor who played Mike Ehrmantraut on Breaking Bad up until meeting his ultimate fate at the hands of one Walter White (who else?), is signing on for a recurring role through Community's upcoming fifth season.

According to EW, Banks will be playing Pat Nichols, a criminology professor with a mysterious background (much like on the AMC series). But perhaps his background is even more mysterious than Community is leading us to believe. Perhaps he is Mike, materializing in the purgatory that is Greendale Community College after his sordid lifestyle back in the ABQ (and, before that, in Philly… I guess we'll never find out what really happened there). And although the rules of TV purgatory are such that you don't remember your old life in the meth dens of Earth, Mike might find himself in the company of some familiar faces. There's Gus, of course, and young Badger, who pops up on the Community campus from time to time to deliver pizza or play hacky sack.
Now, I know what you're thinking. "Badger's not dead!" Does this mean that Community takes place in the future, and our dear, raspy-voiced Brandon Mayhew will lose his life before the end of Breaking Bad's run? Or is he simply a divine being who can travel between the dimensions of "life" and "death"? An angel, who lives amongst the fallen but pays occasional visits to New Mexico to guide the chosen beings toward glory?
We really see no reason to believe otherwise. The only flaw in this logic: an offhand mention by Troy Barnes to the television series Breaking Bad at the beginning of Season 3. Simple explanation, though: Troy, too, is a divine being. Perhaps… the divine being. Airtight, people. Airtight.
Follow Michael Arbeiter on Twitter @MichaelArbeiter | Follow hollywood.com on Twitter @hollywood_com
More:
'Breaking Bad' Recap: Buried
'Orange Is the New Black' Links to the Tommy Westphall Universe Via 'Community'
Huell, Stop Rolling Around in Money!
---
From Our Partners


Battle of the Bikini Bodies (Celebuzz)


Fangbanging: Complete Guide to All of 'True Blood's Sex Scenes (Vh1)