'Community' Feud: Is Chevy Chase Leaving the Show?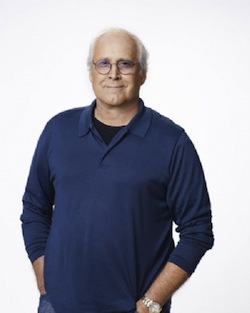 Though it seems increasingly likely that Community will be renewed for a fourth season, fans should still prepare to say goodbye to one of the show's core characters. Chevy Chase and creator/executive producer/showrunner Dan Harmon have been feuding since they shot the season finale last month, and the situation is only getting uglier.
Deadline reports that their battle started when Chase walked off set before filming what was slated to be one of the season's final scenes. Chase claims he didn't get the script, but other show sources say he didn't find the scene funny, and has stormed off set before. While Chase has a reputation for being difficult to work with, Harmon is hardly the innocent victim. At the wrap party he gave a "F*ck you, Chevy" speech and encouraged the cast and crew to join in — all in front of Chase, his wife and his daughter.
Chase walked out of the party and later called Harmon to share his own profanity-laced diatribe. In a voice message that's surfaced online, Chase says that no one on set knew what was going on, plus the script was "an abomination and your writing is getting worse and worse." He also fumes about Harmon's wrap party speech, saying, "I don't get talked to like that by anybody. Certainly not in front of my wife and daughter, you goddamn a**hole alcoholic fat sh*t."
News of discord on the Community set may seem a bit surprising, considering that since its long hiatus the troubled show has become NBC's second highest rated comedy after The Office. However, Chase has been very open about how much he dislikes Pierce and the show in general. While he's praised his castmates and referred to them as his "family," a year ago he told the Huffington Post, "this is certainly not my kind of thing. I probably won't be around that much longer, frankly." He added, "I have creative issues with this show. I always have. With my character, with how far you can take [Joel McHale's] character … just to give him a long speech about the world at the end of every episode is so reminiscent. It's like being relegated to hell and watching Howdy Doody for the rest of your life. It's not particularly necessary, but that's the way they do these things. I think it belies the very pretenses that his character, Jeff, has, that he's giving these talks. They're supposed to, in some way, be a little lesson to people who watch sitcoms … to that degree, I can't stand sitcoms."
Though Chase was one of the show's biggest draws when it first launched, the rest of the cast have become bigger stars over the past few seasons and Pierce has become less and less important to the plot. Unless Chase starts raving about "tiger blood" and making legal threats regarding his contract, it should be fairly easy to simply write him out of the show. [Deadline, Huffington Post]