'Community' Hires New Showrunners; Dan Harmon Blindsided — UPDATE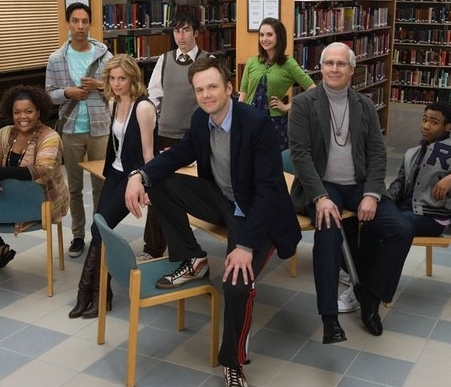 UPDATE: Former showrunner Dan Harmon has taken to his blog to talk to friends about the change, claiming he was fired from his post. Harmon writes, "Why'd Sony want me gone? I can't answer that because I've been in as much contact with them as you have. They literally haven't called me since the season four pickup, so their reasons for replacing me are clearly none of my business. Community is their property, I only own ten percent of it, and I kind of don't want to hear what their complaints are because I'm sure it would hurt my feelings even more now that I'd be listening for free."
And perhaps Community fans should worry about his role as "consulting producer" on the series. Harmon says in his blog that he has yet to be contacted about continuing work on the series. "You may have read that I am technically 'signed on,' by default, to be an executive consulting something or other — which is relatively standard protective clause for a creator in my position," Harmon writes. "Guys like me can't actually just be shot and left in a ditch by Skynet, we're still allowed to have a title on the things we create and 'help out,' like, I guess sharpening pencils and stuff."
Should Harmon attempt to help, he says, he'd simply be "offering" suggestions, not enforcing creative changes: "I'm not saying you can't make a good version of Community without me, but I am definitely saying that you can't make my version of it unless I have the option of saying 'It has to be like this or I quit' roughly 8 times a day."
Harmon also says he saw the replacement coming. "I had my assistant start packing my office days ago. I'm sorry. I'm not saying seasons 1, 2 and 3 were my definition of perfect television, I'm just saying that whatever they[re going to do for season 4, they're aiming to do without my help," he writes. "So do not believe anyone that tells you on Monday that I quit or diminished my role so I could spend more time with my loved ones, or that I negotiated and we couldn't come to an agreement, etc. It couldn't be less true because, just to make this clear, literally nobody called me." 
Though NBC is not issuing comment about Harmon's words, the 
Community
cast has taken to Twitter to respond to the showrunner's ouster. Wrote star
Joel McHale
: "@danharmon you are a true genius. You gave me the role of a lifetime & three of the best years of my life." 
Responded
Gillian Jacobs
, "I wholeheartedly agree with @joelmchale. I'm so grateful to @danharmon for my role, the show and everything else. Thank you, Dan. Thank you."
Yvette Nicole Brown
tweeted, "@danharmon So many thoughts. So little room. I guess, 'I heart you' and 'Thank you to INFINITY' will have to do for now."
Finally,
Alison Brie
also spoke out about the Community shift: "I'm in creative debt to @danharmon who let us ride the coattails of his integrity, pushing boundaries & making f'ing awesome tv. Thanks Dan."
EARLIER: 
Community
's community just got a bit bigger — despite the fact that beloved former showrunner Dan Harmon has taken a back seat. After news broke that Harmon would be stepping down as the series' showrunner,
Deadline
reports David Guarascio and Moses Port have stepped into the role for Season 4 of the NBC series. 
Über-fans of the series
need not be worried
— Harmon will still be involved to help keep
Community
 a must-see, serving as a consulting producer. And it seems the network has left the show in good hands: Guarascio and Port have plenty of quirky sitcom experience in the industry, most recently as consulting producers on ABC rising star 
Happy Endings
. The duo also executive produced
Just Shoot Me!
 and
Aliens in America
. 
Would it be wishful thinking for us to hope the
Chevy Chase-headed
Community
 will now become a big, happy family?
[Image Credit: NBC]
More: