'Community' Guest Star Tricia Helfer on Her Flirtation With Jeff & a 'Battlestar' Reunion?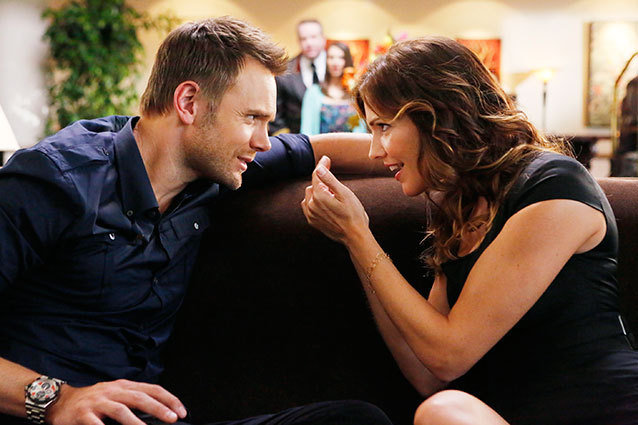 What's nerdier than Community with Troy and Abed at an Inspector Spacetime convention? How about Troy and Abed at an Inspector Spacetime convention with Jeff getting hit on by Battlestar Galactica alum Tricia Helfer in the hotel lobby? That's what fans are in for this Thursday on the fantastic Season 4 episode. 
RELATED: Community Recap: Abed TV
We got a chance to chat with Helfer about the ongoings on the notoriously raucous set, and from the looks of things, we're in for a fun run in nerdlandia through a Community lens. Helfer, as convention-attendee Lauren has a serious flirtation with our beloved Jeff in the name of nerddom. How perfect, considering Helfer's no stranger to sci-fi convention. "It's certainly a fun gag to have an actor that's been in that world, in that genre. I think it's definitely a whole list of actors that could do it, but I think there were a couple of fans of Battlestar on the show," she says. She says Joel McHale and Danny Pudi are both long-time Battlestar fans, so she felt right at home.
"Danny was funny because I'd never met him before and he was like 'Oh! I can't believe it!' But it helps put you at ease a little bit when you show up on set, and you don't know anybody," she says with a laugh.
RELATED: Community Recap: The Haunted House of Hawthorne
Helfer's character Lauren, however, was someone she understands very well: the sneaky super nerd. According to the veritable expert, there are three kinds of convention goers. "There are people who are just there and are just enjoying the show and hanging out. And there's the people you think are in that category, but then can turn on you which is a little more like Lauren," she says. "They can turn into much more of a rabid fan or a fanatic. And then there's the people that lay it all out there for you. I'm going to have fun and I'm going to dress up. So Lauren falls into the middle category where you don't expect her and she surprises Jeff and she turns into a fangirl quite quickly." Finally, the sort of woman Jeff doesn't truly understand. This should be interesting.
Of course, while fans will enjoy Helfer's hilarious moments with Jeff (and later a little Annie), the real question her cameo brings up is: when is Community going to do a Battlestar episode?
"We didn't talk about it, but that would be great. We should tell them that," she says. "I would come back for it and I'm sure quite a few of the original Battlestar cast would be up for it," she adds. Well, NBC? How about we give the little show that could another season and get on this reunion train!
But wait, there's more. We've also got a sneak peek at what's coming up at the end of February for the Greendale gang. We snagged their February calendar!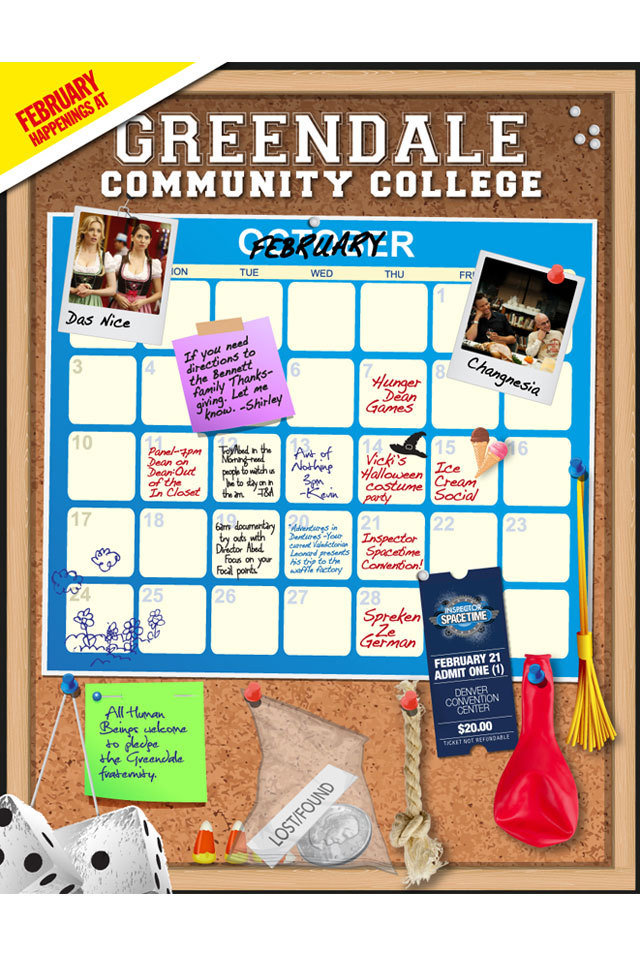 Follow Kelsea on Twitter @KelseaStahler
[Photo Credit: NBC]
---
From Our Partners:


25 Forgotten Celebrity Crushes of the '90s (Vh1)


30 Stars Who Have Gone Topless (Celebuzz)