Pierce or Troy: Which Was The Saddest 'Community' Goodbye?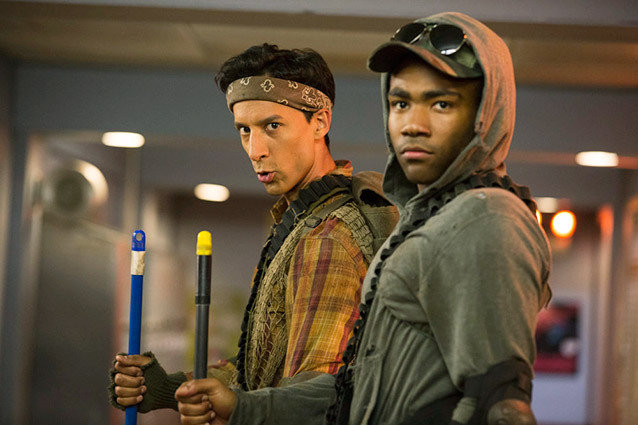 NBC Universal Media
Against all odds, Community is still on our televisions, laptops, and handheld devices. But as we settle in to this unlikely season five, we're doing so short two members of the original study group. For two weeks in a row, Greendale has been more bittersweet than usual as we said our goodbyes to Pierce Hawthorne and Troy Barnes. Both had their moments, but which episode provoked more tears?
In "Cooperative Polygraphy," Walton Goggins shows up as the executor of Pierce's will. The conditions Pierce outlined demand that his friends be hooked up to a lie detector and asked a series of questions clearing them of his death before they get the goods. The questions are typical Pierce in their feather-ruffling, and Jeff chastises the group for letting Pierce get their goat even from the dead. Of course, things turn sappy when the inheritances are doled out. Remember that iPod Nano we found out that Britta would eventually own in season one episode "The Art of Discourse"? Pierce left it to her, "filled with music to take life less seriously by." But it was his hereforto unspoken admiration of Shirley and "her strength of character" that really got us. Still, the ghost of Chevy Chase's rocky history with the show loom over the episode, and it feels like we already made peace with Pierce's absence long ago.
"Geothermal Escapism" followed, and Donald Glover's final Greendale adventure took the shape of a campus-wide game of "The Floor is Lava." So much more lovable and loved than Pierce, Troy Barnes is going to be missed by the entire group. But without question, this episode is about the break-up of one of TV's greatest bromances — nay, one of TV's greatest friendships: Troy and Abed. (In the mooooorning!) As usual, Danny Pudi makes excellent work of Abed's struggle to express the emotions that he feels so strongly. He sees the floor as lava because Troy is leaving and he can't let go. As the two are wont to do, they come up with a game that helps them navigate their feelings. And really, who didn't shed a few when Clone Troy and Clone Abed hugged it out? Without question, Troy's final episode takes this one.