'Community' Is Doing a Puppet Episode — When the Theme Episodes Work and Fail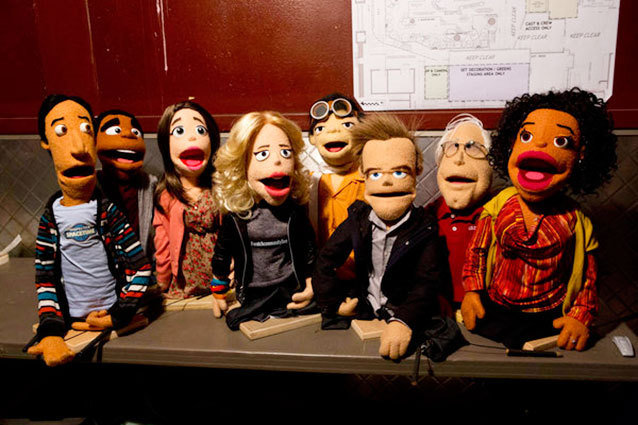 Although the Community fan base is rapidly thinning, many of us still watch weekly, holding onto the hope that the cast can crank out something enjoyable for one of these episodes. Although I checked my investment at the announcement of Dan Harmon's departure, satisfied with the Season 3 finale as a spiritual conclusion of the show (it really did wrap up everything in a pretty excellent way), you can bet I'll be tuning in for Jeff's upcoming reunion with his father, a Greendale origin story, and a puppet episode that was announced at Tuesday night's PaleyFest Community panel. If only out of morbid curiosity.
NBC describes the episode's premise in a press release: "In the episode, the study group takes a wild balloon ride that crash lands in the woods, and they end up spending a little time with a friendly mountain man, played by Jason Alexander (Seinfeld) … As the study group recounts their adventures in the woods, which has left them all feeling a little awkward with one another, Dean Pelton (Jim Rash) encourages them to speak about their experience with the use of puppets. The puppets include characters Jeff (Joel McHale), Pierce (Chevy Chase), Britta (Gillian Jacobs), Shirley (Yvette Nicole Brown), Abed (Danny Pudi), Annie (Alison Brie), Troy (Donald Glover) and Chang (Ken Jeong)." So … we'll see.
RELATED: 'Community' Recap: Falling Out of Love with 'Community' 101
Just a season ago, a theme episode of this nature would inspire a different attitude entirely. The series has managed several high concepts, tackling film genres and a number of different types of animation, as some of its greatest triumphs to date — not because of the style, but the substance. Community's winners have used big and small screen tropes and highly specific lenses to tell personal and meaty stories, delving into the characters' relationships and fragmented psyches, while the lesser examples of the breed amount to little more than short form parodies.
And while Season 4 in particular remains the target of our gripes, it's not as though Community has had a perfect record with its high concept episodes in the past…
THE SUCCESSES
"Contemporary American Poultry" (Season 1, Episode 21)
Why It Worked: The first of the lot introduced Community's ability to bend reality just enough, using Mafia movie schematics to tell the story of Abed's feelings of isolation among the study group and people in general…
"Modern Warfare" (Season 1, Episode 22)
Why It Worked: …but the real game changer came a week later, launching Community into a new plane of existence entirely for its memorable action movie sendup, which creator Harmon describes as colossally dependent on the effectiveness of its emotional core: the culmination of Jeff and Britta's romantic tension.
RELATED: 'Community' Recap: Can Troy and Abed's Love Survive?
"Abed's Uncontrollable Christmas" (Season 2, Episode 11)
Why It Worked: The real victory of the claymation Christmas episode was in its explanation of why it was a claymation Christmas episode — the heartbreaking and frightening manifestation of Abed's emotional decay over his estranged mother's abandonment of him around their formerly cherished holiday. Abed dealt with the tragedy by imagining everything as one of the Rankin/Bass specials the two used to watch together, dipping the bright and fun imagery in a vat of heavy, dark sorrow. Happy ending, though!
"Advanced Dungeons & Dragons" (Season 2, Episode 14)
Why It Worked: The Lord of the Rings-ian style fit the theme of the episode while not submitting too much to the mechanics of the epic movie. And beneath an epic episode there lurked epically emotional stories: Fat Neil's struggles with suicidal desires, Pierce's vicious insecurities and fear of exclusion, and Jeff's paining guilt over having inadvertently unleashed this degree of insensitivity on an innocent classmate. All delivered via a medium capable of capturing the grand nature of these conflicts.
The Documentary Episodes: "Intermediate Documentary Filmmaking" (Season 2, Episode 16) and "Documentary Filmmaking Redux" (Season 3, Episode 8) 
Why They Worked: The show had so much to say about the documentary format that it warranted two independent episodes. The first channeled and poked fun at the luxuries of the mockumentary style in the up-close-and-personal examination of each character's emotional turmoils during a trip to visit Pierce in the hospital. The second, even more interesting episode both gave the Dean his first glimmer of spotlight, diving energetically into his frazzled, frayed psyche, while also tackling the age-old question of whether a documentarian can and should truly be detached from his or her work.
RELATED: 'Community' Recap: You Are Now Watching Abed TV
THE FAILURES
"Basic Rocket Science" (Season 2, Episode 4)
Why It Didn't Work: Serving as little more than an Apollo 13 parody, the Season 2 episode grabbed at the goofy nature of space mission movies, using the flimsy, unbelievable throughline of Annie threatening to transfer out of Greendale (on a whim, so it seemed) as its seed.
"Foosball and Nocturnal Vigilantism" (Season 3, Episode 9)
Why It Didn't Work: While this episode's emotional engagement in Jeff and Shirley's previously unknown childhood rivalry was gripping and sweet, there were a few missed marks throughout. In regards to Jeff/Shirley, the arbitrary shift to anime style during their cathartic foosball faceoff didn't pull us in as much as it did cock a few eyebrows. It was a nice idea, but didn't contribute anything to the episode. On the other side of the group, the Abed/Annie/Troy storyline, a tackle of the age-old sitcom trope of covering up a misdeed, didn't so much play with or deconstruct the notion as much as it did simply enact it.
"Regional Holiday Music" (Season 3, Episode 10)
Why It Didn't Work: In the same vein as "Nocturnal Vigilantism," this Glee parody hardly seemed like an intelligent spin on the much detested "rival" series. Instead, Community just took the Christmas episode as an opportunity to sing vaguely clever songs and take cheap shots at the Fox hit.
RELATED: 'Community' Guest Star Tricia Helfer on Her Jeff Reunion 
"Digital Estate Planning" (Season 3, Episode 20)
Why It Didn't Work: I might be in the minority here, but I never much cared for the video game episode. Not because of its substance — Pierce's redemption and the discovery of a half-brother whom he'd come to care for are worthy fodder. But in this case, the style. The writers didn't seem to have enough fun with the idea of a video game episode, padding the script with exposition and bland chatter where there should have been more frequent takedowns of the video game generation via Troy. 
"History 101" (Season 4, Episode 1)
Why It Didn't Work: Only a portion of the Season 4 premiere was stylized, and in keeping with our expectations of a post-Harmon Greendale, was so in the most obvious way possible: a four-camera sitcom parody. What lurked beneath the surface was Abed's phobia of change, but the delivery seemed heavy-handed and hammy, whereas past exhibitions ("Uncontrollable Christmas" is the most pertinent comparison) were subtle and poignant.
"Paranormal Parentage" (Season 4, Episode 2)
Why It Didn't Work: Another lackluster non-deconstruction. In this haunted house episode, spoofing the tropes of Scooby Doo and its leviathan of spinoffs, the gang didn't seem to have anything to say about mystery stories. They just took one on. And with a severe deficit of jokes, no less. 
RELATED: 'Community' Season 4 Premiere Is One Big Inside Joke, But It's Not the Same
ON THE FENCE
"Pillows and Blankets" (Season 3, Episode 14)
Why We Can't Decide: While the emotional core was vivid and strong, a good deal of the episode seemed to submit to the functionality of a Ken Burns doc, feeling like just another grab at the ol' parody grail. To its credit, a few odd deconstructions do subsist throughout — the text message gags are especially memorable.
"Basic Lupine Urology" (Season 3, Episode 17)
Why We Can't Decide: It was funny, very much so, but kind of lacking in anything new to say about Law & Order.
To those who consider this list incomplete, thinking the clip show episodes ("Paradigms of Human Memory" and "Curriculum Unavailable"), the zombie episode ("Epidemiology"), and the bottle episode ("Cooperative Calligraphy") among those deserving of a place in this context, we invite you to sound off in the comment section.
How do you think the upcoming puppet episode will fare?
Follow Michael Arbeiter on Twitter @MichaelArbeiter.
[Photo Credit: Justin Lubin/NBC]
---
From Our Partners:


Seal Is Dating the Pink Power Ranger: Report (Vh1)


60 Celebrity Bikini Bodies: Guess Who! (Celebuzz)