'Community' Ratings Are Up (a Little) for Season 4 Premiere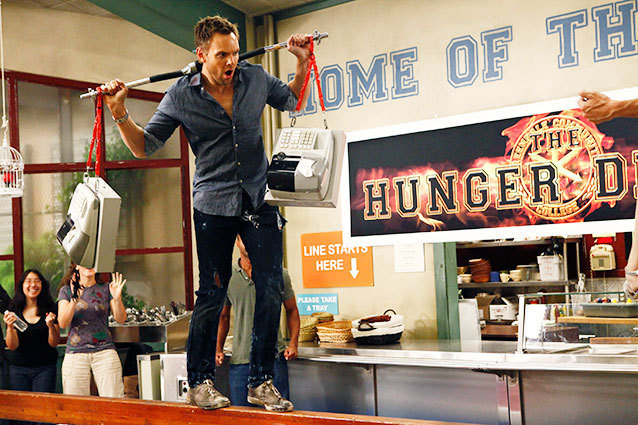 Chalk it up to built up anticipation, an amassing of new fans, or perhaps the teased Hunger Games parody, but Community's fourth season premiere actually took in some pretty decent ratings… at least, in Community standards.
RELATED: 'Community' Recap: You Are Now Watching Abed TV
The critically acclaimed cult phenomenon began its senior year Thursday night, with Entertainment Weekly reporting an intake of 4 million viewers and a 1.8 rating among the 18-49 demographic. This boosts the episode — which launched series hero/villain Jeff Winger (Joel McHale) into a Hunger Games competition to earn himself and his friends seats in the coveted History of Ice Cream class at Greendale Community College — up one tenth from its Season 3 premiere (incidentally, one of the series' weakest eps) in September of 2011.
RELATED: 'Community' Season 4 Premiere: Our Review
But this doesn't necessarily guarantee a long future for the ill-fated NBC sitcom. After two extended hiatuses over the course of a year and the dismissal of showrunners and stars (Chevy Chase has bowed out for any seasons to come), we're likely to bet that the study group says its final goodbyes at the end of this fourth go. 
RELATED: 'Community' Cast on What to Expect from Season 4, the Darkest Timeline, and Sperm
In the meantime, however, we salute our old friend for a ratings victory (you take what you can get), noting the especially impressive fact that these hiked viewing numbers came in opposition to the broadcast of powerhouse American Idol. Huzzah, Greendale!
[Photo Credit: Vivian Zink/NBC]