'Community': Rise of Chang — EXCLUSIVE CLIP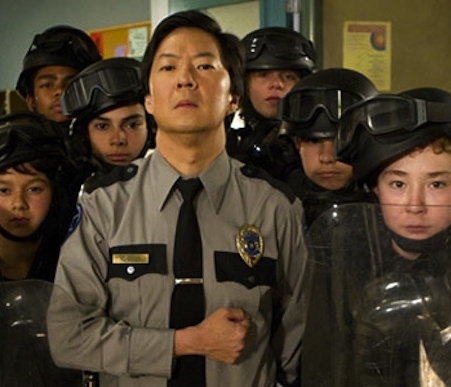 Remember a few weeks back, when Senor Chang enlisted the help of recently Bar Mitzvahed Jewish boys to police the wild halls of Greendale? Well, it appears that after last week's meth-explosion-related student death, their skills will be needed more than ever.
In this Thursday's episode of Community, "Course Listing Unavailable," everyone's favorite study group grapples with Starburns' death in a different way. Some are indifferent, while others (cough cough: Britta) use collective grief as a self-serving psychology experiment. But for the criminally under-appreciated Chang, Starburns' violent passing presents a rare opportunity — for total Greendale domination.
Watch as Chang and his minions bring his list of ridiculous demands to Dean Pelton, who puts an interesting spin on a Dexys Midnight Runners classic. Fans of democracy and soft-serve ice cream beware.
Community airs tomorrow, May 3 at 8 PM (ET/PT) on NBC.
Follow Shaunna on Twitter at @HWShaunna
MORE:
'Community' Recap: Basic Lupine Urology
'Community' Law & Order Spoof — EXCLUSIVE CLIP