'Community' Gets Scary For Valentine's Day: Six of the Scariest Romances At Greendale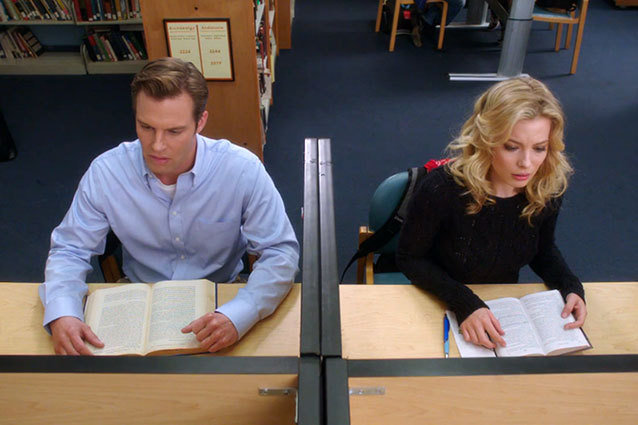 Love is a curious thing. And on Community, it just gets curiouser and curiouser. So curious, in fact, that this Valentine's day, the Greendale gang is actually celebrating Halloween (the perils of having one's season pushed back a few months, we suppose). While it feels rather counterintuitive to watch tales of ghosts and goblins and Pierce on a day about celebrating love, it's actually pretty normal in the realm of Community, where love gets a little… frightening at times. 
Consider this list one for the single people out there. You may be alone today, but at least you're not in one of these scary relationships:
RELATED: 'Community' Season Premiere Recap: Abed TV
The Ballad of  Britta and Subway
Who says a girl can't fall in love with a human proxy for a global sandwich company? Britta's love for Subway was real, and though it didn't last, sometimes you can still hear her whispers on the moor-er, the hill behind Greendale where Leonard hangs out, saying "Suuuuubwayyyy! Suuuuubwaaaaay!"
RELATED: Last Minute Valentine's Day Plans, Inspired By 'Community'
Ch-ch-chang and Sh-sh-shirley?
Chang's Domestic Bliss: A Major Award?
Are you really surprised Chang has two spots on this list? And when you think about it, his domestic partnership with this mannequin leg was actually less surprising than his hookup with Shirley. Of course, that doesn't make watching him caress the plastic knee any less disturbing.
RELATED: 'Community' Cast on Season 4
Love Knows No Bounds For the Dean
It has since been replaced by a love (or something) for Jeff, but once upon a time, the Dean became something of a furry, but only for those dressed as dalmatians. What's worse is that this terrifying, muscle-clad human on YouTube is the one who unlocks the creepy obsession. This is the part where we all shudder.
Everything I Dean, I Dean It For Jeff
The Dean may have stopped off in Dalmatian town, but his heart truly beats (yeah, we'll go with that PG version) for Jeff Winger. Just a single look from Jeff in his devilishly stylish aviators sends the Dean over the edge, (nudge, nudge) if you know what we mean. Yeah, we're a little scared by this too.
What's your favorite scary Community romance? Perhaps we'll encounter another on Thursday's Community "Valloween" episode at 8 PM ET on NBC.
Follow Kelsea on Twitter @KelseaStahler
[Photo Credit: NBC]