'Community' Season 4 Premiere is One Big Inside Joke, But It's Not the Same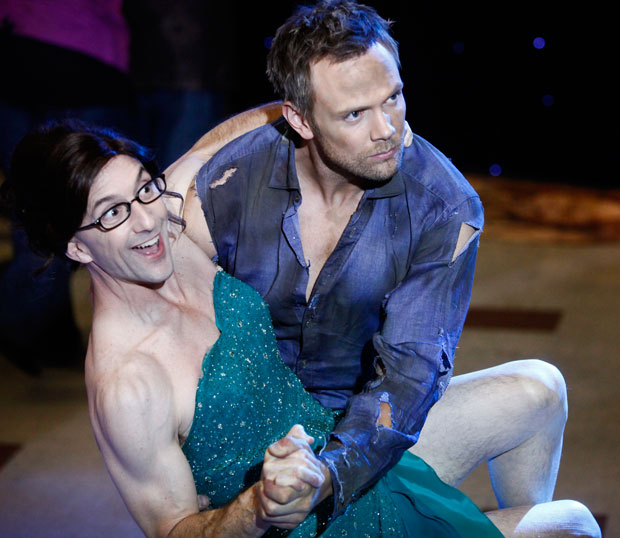 Community fans have awaited this day for months. Then, when NBC pushed the series' Season 4 premiere back from October to Feburary, they waited three more months to finally return to Greendale Community College. That day has come, and while the pitterpatter of movie and television references, sprinkled with rampant digs at hipster culture, can be heard throughout the season premiere, "History 101," it's simply not the same.
The lack of Dan Harmon, the tortured soul who created and for three seasons acted as showrunner on Community, is palpable. The series has always had a happy-go-lucky surface with a dark, twisted undercurrent, and that's what's kept the stalwart legion of Community lovers gripping onto the series, staging flash mobs to save it, and spending all their free time making GIFs and clips to preserve the glory of the show just in case it was unceremoniously ripped from our loving arms too soon.
Community fans are practically in a relationship with the series, but returning to this new and different Community is sort of like returning to a summer love after the snow has fallen: It's lovely, but the spark isn't firing off like a bottle rocket. It's an excited little sputter.
RELATED: 'Community' Cast on What to Expect for Season 4, The Darkest Timeline, and Sperm
We find ourselves on the first day of the study group's senior year. The overzealous confidence of being kings (and queens) of the campus is flowing through everyone, and apparently manifesting itself in hipster glasses upon everyone's cute little noses.
And, of course, the major conflict is, once again, the study group versus Jeff (Joel McHale), who's not looking to savor the last year at Greendale like the rest of them. Will there be a speech? Will Jeff have a change of heart? I can't quite divulge that much, but it's safe to say anyone who hasn't already tattooed the Greendale human being on their behind (or at least thought about it, even if it was just that one time after that crazy dream about following Abed into a stop-motion animated tour of the Community set) is going to be lost in Season 4.
It's a veritable minefield of references back to our favorite pieces of the Greendale Seven, punctuated by yet another Abed (Danny Pudi) fantasy universe that is without a doubt the best element of the episode.
But the darkness is missing. In an episode that has teased the Dean's (Jim Rash) version of The Hunger Games since the first photo was released into the Internet wild, there's a surprising lack of teeth.
The Hunger Deans start out dark, but it's not exactly the bloody mess that we saw in the inspiration material. It's not long before the games are simply a bit of background antics, and playground for the always hilarious Leonard-facing insult. But it's not the same. When Harmon was on-board, an episode dedicated to The Hunger Games would have been vicious.
It would have made us laugh while surreptitious clawing at our souls, asking us to reveal uncomfortable truths about ourselves and our thoughts. That depth is missing, and it suddenly feels like we're back in Season 1 before Pierce (Chevy Chase) had his bad ecstasy trip in the study room. Of course we wouldn't have seen the Dean ride in on a unicorn chariot while wearing a scarlet evening gown, but still.
RELATED: Cast of 'Community' Hold Adorable Kittens Because Internet – VIDEO
The new season feels a bit like a reunion episode that we're happy to stick with for an entire season instead of just a quick hour-long laugh-fest. It's clear that the Community we fell in love with is no longer returning to us.
Luckily, we also fell in love with Jeff, Britta, Troy, Shirley, Annie, and especially Abed. (Pierce is a necessary evil.) And all of our character loves haven't changed, though their environment may have become a simpler, more colorfully decorated one.
Considering the trials this little show that could has endured, it's actually a triumph to see it return to the small screen with episodes that still have the power to charm us and make us laugh. It would defy all logic and sense if the series went through the Harmon-Chase feuds, potential cancellation after potential cancellation, and finally the loss of its creator and disgruntled leader and managed to keep every ounce of the original magic alive. It simply isn't possible.
Instead, we're dealt a version of our beloved Greendale that hearkens back to the original in such loving homage that it's hard not to latch back onto it in spite of its flaws.
And it needs to keep us enrapt at all costs, because without its loyal set of hangers-on, there's no way this miraculously surviving series can ever reach its uncertain goal. But for now, they've appeased us enough to keep us committed to keep on shipping. #SixSeasonsandaMovie
Follow Kelsea on Twitter @KelseaStahler
[Photo Credit: NBC]
---
You Might Also Like:

Biden? Ford? Surprisingly Hot Young Pics of Politicians

Who Wore This Crazy Hat?

Stars Who Changed Their Look After Love