'Community' Season Finale: Eight Clues From Joel McHale's 'Day in the Life'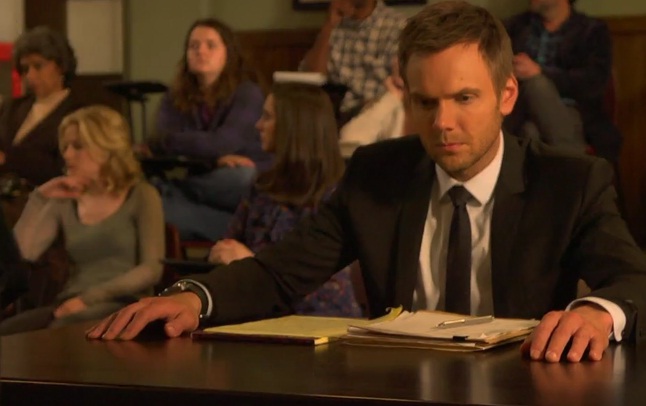 Now that NBC's metaphysical journey through the land of sitcom tropes has returned to us, let's talk about the end. Community finally returned from the cruel three month-long hiatus imposed upon us mere mortals to an audience of hungry, adoring fans. Naturally, the only thing to do now is to posit what the wondrous season finale may hold (other than another tortuous four months without a whiff of new Community). 
Luckily,
Joel McHale
let Morgan Spurlock waltz onto the set of his NBC series for an episode of the Hulu docu-series,
A Day in the Life
, and a few tiny finale spoilers came along as collateral damage. Here's what we learned from the accidental behind-the-scenes peek:
1. Greendale's Day in Court: We happen upon a big finale court-room scene set-up in the old Anthropology classroom. Unfortunately, it seems Betty White is still on probation and John Oliver is sleeping off a hangover on some distant sidewalk.
2. Jeff is "Attorneyizing":
Actress
Gillian Jacobs
(Britta) won't dish about the circumstances of the case, but she did deliver that gem of intel. We can be sure Jeff will don an impeccable suit and exercise his ever-flapping, overly-articulate gums. 
3. Rob Corddry is Back: Jeff's old law firm frenemy has returned. You know what that means: Prepare for lines and lines of cocaine jokes.
4. Dean Pelton Got Into the Drama Dept. Costumes Again: It's a brief glimpse, but that's definitely the dean in a white Queen's Counsel wig on a judge's bench. I wonder if they make traditional court robes in Dalmatian print?
5. Jeff is Shirley's Hero… Maybe: In the court room, we find Jeff sitting at a table with Shirley while Corddry defends Pierce. Did Subway tear the business partners asunder? Curse you, Subway!
6. Yep, That's Evil Timeline Abed: He's apparently escaped from the Dreamatorium and he's now threatening Jeff's loveliest asset: his face. "I'm going to cut off Jeff Winger's arm. I'm going to cut off Jeff Winger's face!" screams Danny Pudi. 
7. The Return of Jeff's Superpower: Of course by superpower, we mean his long-windedness. Jeff Winger, master speechsmith, is at it again. And this one's going to be a doozie. Even Yvette Nicole Brown (Shirley) is driven to joyous applause for this one.
8. The Gang's All Here!: The courtroom scene is full of Greendale faces, including the study group and folks like Starburns and Leonard. And considering Community has yet to be renewed for a fourth season (we're quaking in our space boots with our fingers and toes crossed over here), getting the whole buncha losers together for the finale is only right should the worst news befall us come May. 
To see the sneak peeks for yourself, enjoy this clip from A Day in the Life!
Follow Kelsea on Twitter @KelseaStahler.