'Community' To Return in February, Back on Thursday Nights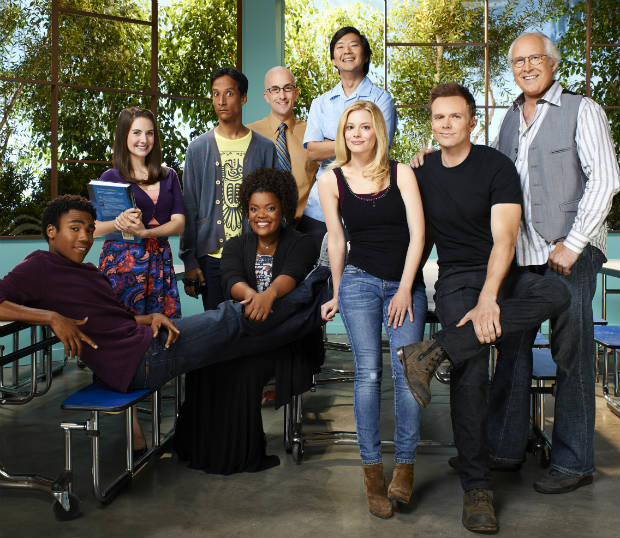 Every cloud has its silver lining, and while the East Coast is still searching for theirs after a horrible night, the storm surrounding NBC's cult favorite Community has finally found its rainbow. After the firing of the show's creator Dan Harmon, a planned move to a dreaded Friday night time slot, an indefinite delay on their planned Oct. 19 debut, and yet another groan-worthy incident involving Chevy Chase, Yvette Nicole Brown released some much-needed good news via her Twitter account this morning:
Guys, #Community officially has an airdate: Thursday, February 7th at 8pm!
— yvette nicole brown (@yvettenbrown) October 30, 2012
Yep, you read correctly: The show will again air on Thursday nights, meaning you'll get to enjoy Greendale with Parks and Rec instead of, well, Whitney. Brown then followed up with a joke from the gang's (hilarious) video making light of their then-unknown premiere date, noting that Feb. 7 is totally the new Oct. 19:
February 7th is #October19th! Who knew?! 🙂
— yvette nicole brown (@yvettenbrown) October 30, 2012NBC will release a full statement shortly, so stay tuned for updates. Until then, fill your "Troy and Abed in the Morning" mug with the beverage of your choice, hug your Norwegian troll, and rejoice in the fact that we'll all be Human Beings again soon. Classic Winger.
UPDATE: Hollywood.com has received NBC's midseason release, which includes the following statement about their new Thursday night lineup:
The new comedy 1600 Penn — starring Bill Pullman (Independence Day), Jenna Elfman (Dharma and Greg) and Josh Gad (Broadway's The Book of Mormon) as a typical American family who just happen to live in the White House — debuts on January 10 (9:30-10 p.m. ET). Jason Winer, Emmy-winning director of Modern Family is co-creator and director. The critically hailed comedy Community returns on February 7 (8-8:30 p.m. ET). Parks and Recreation moves up one hour on the Thursday schedule to 8:30-9 p.m. (ET) on January 17.
Follow Shaunna on Twitter @HWShaunna
[PHOTO CREDIT: Mitchell Haaseth/NBC]
MORE:
Chevy Chase Allegedly Uses Racial Slur On 'Community' Set — REPORT
'Community' Cast Spoofs Season 4's Delayed Debut on 'Troy & Abed In the Morning'–Video
It Ain't Easy Being a 'Community' Fan

Kate Upton's Sexiest Viral Videos
(Celebuzz)