'Community' Without Chevy Chase: Could It (and Should It) Work?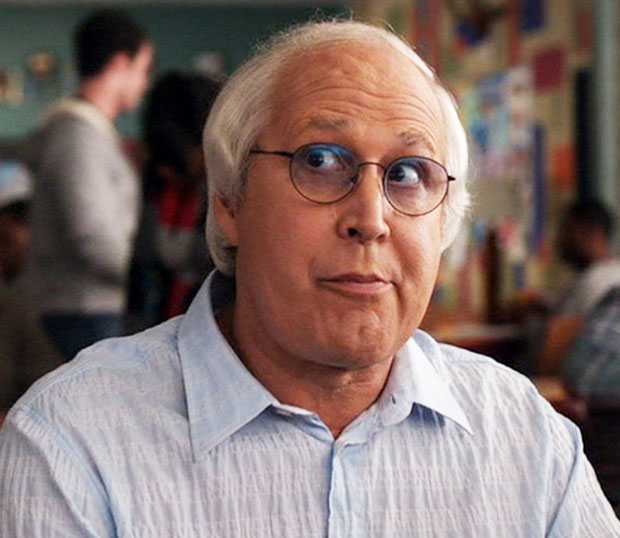 For every M*A*S*H, there are three That '70s Shows. A general rule to live by, yes, but it takes particular relevance in the wake of Chevy Chase's announcement that he will be departing from NBC's cult phenomenon Community. The news broke last Wednesday that Chase would be departing from his position on the show, effective immediately. Considering how much of the upcoming fourth season has already been filmed, this will only leave viewers with one or two episodes devoid of Chase. However, if the show does get picked up for a fifth turn, we will be seeing Greendale without Pierce Hawthorne. Since the Season 4 finale has already been filmed, Pierce's exit will have to be written into the beginning of the fifth year, unless they just plan on ignoring it. 
And so, we're called to revisit the maxim of M*A*S*H vs. That '70s Show. The iconic Korean War black comedy is notable for having lost a handful of its original players along the course of its 11-year run (Trapper, Burns, Radar, Lt. Blake) filling the gaps with aplomb. The 1970s sendup, however, lost the likes of stars Topher Grace and Ashton Kutcher before its final season, tumbling in quality with desperate attempts to keep the show up and kicking. In this respect, That '70s Show has a great deal more peers than M*A*S*H, which can really only call the likes of Cheers its company. Sitcoms rarely fare well following the loss of major characters — look at the pitiful later years of greats like Happy Days and Laverne & Shirley; it's almost never done well. Of course, Community is savvy to the nuts and bolts of the television formula. It might well offer a satirical and analytical take on the ejection of one of its cast members. But following however this plays out, we'll be back into the swing of the group's day-to-day, only without one of the seven severely flawed figures to whose journeys we have adhered since the pilot.
PHOTOS: 19 Most Famous TV Exits
Granted, Pierce might be an easy character of which to let go for many. Ever since Pierce's "evil breakout" in the stellar Season 2 episode
"Advanced Dungeons & Dragons,"
Internet message boards have been swarmed with hatred for the insecure, often malicious figure. As time went on, Pierce got worse — his dishonesty, manipulation, and bigotry were amped up systematically, bolstering the hate of many a
Community
fan. A good portion of the viewing base, however, remained intrigued by Pierce, understanding that his flaws were what made him a captivating and complex character. But even those who stayed true to Pierce were likely to side against Chevy once the behind-the-scenes controversies began: Chase's
badmouthing of the show
and of creator
Dan Harmon
(
to which Harmon himself retaliated
) contributed to the increasing opposition of the actor, and pushed many to believe the show might be better off without him altogether. And now, the anti-Chase camp gets its wish. Chevy will be bidding farewell to
Community
, and Pierce to Greendale. But the remaining Pierce apologists will feel this is a burn. Yes, Chase might have evoked some problems offscreen, and yes, Pierce might not have been an ideal citizen or friend. But his character was an important component to the entity formed, invariably, by the seven college students who banded together when the world gave them no place else to turn. The show is about the union of these flawed, lost souls — it's about each one of their journeys toward self-betterment. It is about, not to be hokey, the very idea of a community: an organism that can only exist when others unite to form it. When Pierce steps out of the group for whatever assortment of episodes we'll see following Chase's leave, the community will cease to be. Yes, the remaining group members will stay in tact, but the very idea that this unlikely community was untenable — the idea on which the show was founded — would be forever marred. But all that is said and done: Pierce is leaving, and we'll have to deal with that. So, if the show does get a Season 5, its arrival will be predated by this question: how will they write him out?
Community
is notoriously dark, but would killing off a major character really fall in its jurisdiction? Could setting Pierce to rest in a dramatic Season 5 premiere be the best way to remove him without malice, allowing all of the other six group members to grieve and embrace their love and appreciation for their tortured friend?
PHOTOS: TV's Most Moving Deaths
If the show goes about the removal of Pierce otherwise, it might make for awkward storytelling. The, "Well, he's already gone!" without so much as a proper goodbye (as said above, the Season 4 finale has already been filmed, complete with Chase) could translate quite clumsily. "Well, Pierce just set sail on his yacht for Andorra!", "Well, Pierce's wedding to that Tuvaluan princess sure was great!", "Well, nobody remembers where Pierce is… I hope he finds his way back soon!" Of course, we have faith that
Community
would handle the affair more delicately and intelligently than any of these, but concerns still stand. A
Community
without Pierce will be incomplete, plain and simple. The very idea of fissures in the group detracts from the greater message of the program: these people are, and are meant to be, together. They're a family, a support group, a community. In the words of
a wise young girl
, "If one piece busts, the whole thing will get busted." It's only a matter of time before this is realized by fans and producers alike. [Photo Credit: NBC]
More:
Chevy Chase Dropping Out of Community