Conan O'Brien To Host The White House Correspondents Dinner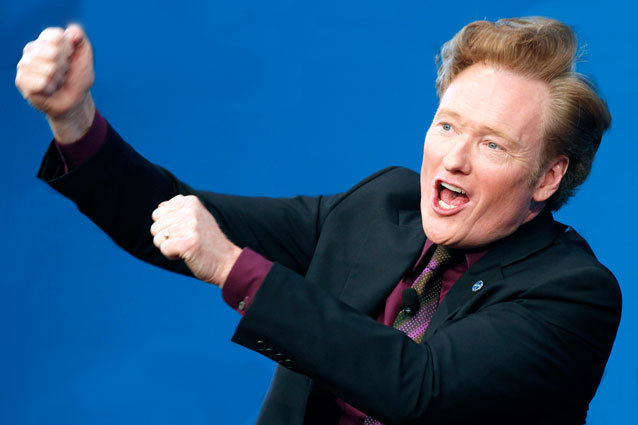 Has the puppet string dance ever been done at a White House Correspondents dinner? If it hasn't before, it likely will now, as Conan O'Brien will host the 2013 White House Correspondents dinner for President Barack Obama and the rest of Washington D.C.'s elite.
RELATED: 'Arrested Development' Casts Conan O'Brien and Andy Richter For Season 4 
The ginger-haired late night funny man, who last emceed the event back in 1995 for President Bill Clinton (in a cruel twist of fate, no one has hosted the White House Correspondents dinners more than Jay Leno), announced the news via Twitter. O'Brien posted from his page, "I'm honored to host the WH Correspondents dinner. Get ready for 2 minutes of jokes, then 40 minutes on public employee pension reform." 
White House Correspondents Association's president Ed Henry said in a statement, "Conan is one of television's most innovative and influential talents and I am absolutely thrilled that he has agreed to be this year's featured act. As social media has changed all aspects of the media business, Conan has embraced this shifting landscape to become a creative force both online as well as in the traditional television model. We are grateful that Conan will be also be using that creativity to bring more attention to the WHCA's commitment to helping needy journalism students." 
RELATED: Barack Obama and Jon Stewart Prove Comic Chemistry on The Daily Show
Taking the baton from Jimmy Kimmel who hosted last year, O'Brien should be a great follow-up with his patented brand of smart and silly comedy that fans catch every night on Conan. It's doubtful he'll push the envelope like Stephen Colbert did in 2006 (then again, Colbert was playing to a very different administration and brought satire to scathing new levels of brilliance), but he won't be shy in terms of getting in a few key zingers, a la Seth Meyers in 2011. Here's hoping, for sake of sheer comedy, Donald Trump is in attendance again. 
RELATED: Ryan Gosling Got a Fan to Repeatedly Mock Conan O'Brien
The 2013 White House Correspondents dinner will take place on April 27. 
[Photo credit: Michael Dwyer/AP Images]
---
From Our Partners:


Bradley Cooper Dancing Is Surprisingly Awkward, Sweaty (Vh1)


Kate Upton Bares All in Nothing But Body Paint: Video (Celebuzz)