Cory and Topanga Are In! 'Girl Meets World' Pilot Nabs Danielle Fishel, Ben Savage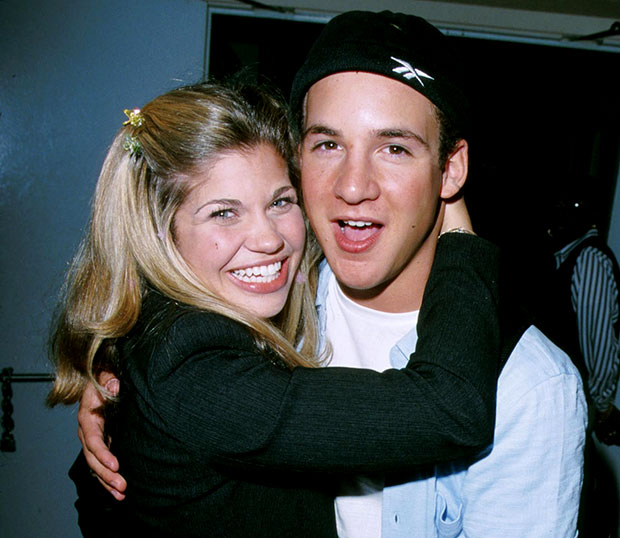 We always knew that Topanga and Cory would be together forever, and now we've got the casting news to prove it! Danielle Fishel and Ben Savage have officially signed on to star in the new Disney pilot/Boy Meets World spinoff series, Girl Meets World.
According to TVLine, the news heard 'round the world by Boy Meets World fans was unveiled today, when the two actors signed on to reprise their roles as childhood sweethearts Topanga and Cory as married adults with a young daughter, the as-yet-uncast Riley. The 13-year-old will be the focal point of the series, and told through her eyes—much the same way Boy Meets World was done from the perspective of Cory Matthews all those years ago.
The show has been a frequent topic of conversation as of late, with nostalgic posts about the family-friendly, funny series gaining momentum around the Internet (check out our very own Matt Patches' chat with the series' creators and stars about their infamous Halloween episode). As fans of the show are starting to make families of their own, it seems a natural fit for a continuation. The series (if it gets picked up) will be set in modern-day—more than 12 years after the show ended its 158-episode, 7-season run from 1993 to 2000. But don't expect this one on your screen too soon: the pilot is still in the very early stages of development, but put any fears of integrity aside, because Boy Meets World creator and executive producer Michael Jacobs is still at the helm of this new potential series.
If you think only fans of the show are excited about a spin-off, think again. Fishel immediately took to her newly-minted Tumblr account to share her own joy, explaining "You, yes, even YOU, are the reason that Girl Meets World WILL BE MADE," and that while she doesn't know if any of the other cast members will follow suit, she does know that they all "share many of the same feelings regarding the 7 wonderful years we spent making BMW. Those years were among the most warm, hilarious, insightful, educational years of my life and I wouldn't trade them for the world."
For fans worried about the legacy of one of their favorite shows, Fishel's got you covered, explaining that the show creators and cast "promise with the entirety of my heart that we will make GMW with the same honesty, innocence, and intelligence that you learned to expect from BMW." Fishel also wrote candidly about a conversation she had with Jacobs regarding the show's importance to fans and the cast, explaining that "Michael said to me, 'Danielle, when I read what people say BMW meant to them it makes me so very proud of all of us. I think it is important for us, for as long as we are fortunate enough to have this opportunity to do GMW, that we all look each other in the eyes every so often and make sure we know we have something of value to offer the audience.' I think we have that with GMW."
Those thinking that the show will just be a repackaged version of Boy Meets World? Don't, because Fishel seems to believe that Girl Meets World won't simply be a carbon copy of its predecessor. "GMW is a new show. It isn't BMW brought back to life but in current day. It will have familiar faces, familiar themes, and familiar messages. It will also have new faces, new themes, and new messages. BMW never spoke down to the audience and we are going to do our best to never do that with GMW. But please keep in mind that this there will be episode 1, of season 1, of a brand new show. We started at the same place with BMW but we evolved and we evolved quickly. For those of you who knew and loved BMW, please allow this show to evolve as well. Stick with us. Give us a chance."
Hollywood.com has reached out for comment, but did not hear back at the time of publication.
Are you a big Boy Meets World fan? Wondering how Mr. Feeny fits into all of this? Will Eric be the goofy single uncle? Did Shawn buy the house next door? Whatever happened to his brother Jack? Let's discuss it all in the comments below!
[Photo Credit: SGranitz/WireImage]
Follow Alicia on Twitter @alicialutes
More:
'Boy Meets World' Sequel Opens Casting Call for Girl Versions of Cory and Shawn
'Boy Meets World' Sequel Series in the Works
An Oral History of the Infamous 'Boy Meets World' Horror Parody Episode

Chris Brown Makes NSFW Poop-Related Insults, Deletes Twitter Account

'Liz & Dick' Is Bad in the Worst Possible Way: Review