Couch Potatoes Anonymous: TV Shows That Died Too Young
Hey everyone, it's that time again! No, not another CPA column, although thanks for reading. We're in the midst of the best time of year, the Fall TV season, where hope is kindled anew and we patrons of the idiot box are treated to a dearth of new shows. Some reach phenomenal heights, becoming a part of the fabric of pop culture; others, no matter how critically lauded or devoted a fan base, linger in mediocrity for several seasons. And still more are just downright deplorable and cancelled faster than I can write a column about cancelled shows. "But sometimes, just sometimes, the crow can bring that show back to set the wrong things" – never mind, maybe that's getting too meta. (I've been catching up on Community and Abed might be my new hero.)
Sometimes, shows are cancelled no matter how awesome they are. And then there are those shows that don't seem to understand the meaning of the word "cancelled." Thanks to undying fan devotion, these series (see: Family Guy) return from cancellation and endure more years of fun for everyone. Sadly, too many shows aren't as lucky – they are cancelled way before their time and are never heard from again. These series are axed for poor ratings, network management turnarounds, or several other reasons. But one thing's for sure, their cultish fan bases are never going to give them up.
Shows Cancelled Without Resolution
When good series die young, it just plain stinks; we'll never get to know what happens next. Shows end on cliffhangers to build up suspense for the next season, or even the next episode. But when the network lowers the boom, we're left wanting more simply because as a devoted fan we deserve more – we deserve closure.

Soap (ABC, 1977–1981)
I'm not quite sure how many of you out there have heard of this late-70s gem, but we're going to begin our rundown with it, because Soap paved the way for or jumpstarted several careers (see: Billy Crystal, Ted Wass, Robert Guillaume, Katherine Helmond, Richard Mulligan, Robert Urich), not to mention blasted down the doors of night time TV comedy and expanded sitcom boundaries. The show focused on the well-to-do Tate family and their ne'er-do-well in-laws, the Campbells. Soap was aptly named, as the entire series parodied the extraordinarily madcap daytime soap opera genre and many of its wilder tropes, such as murder, mystery, cults, demonic possessions, wrongly convicted murders – the list is never ending and Soap always made it all hysterical. Due to the show's cliffhanger in every episode, the show was cancelled as Jessica (Helmond) was about to be saved from, or executed by, a Communist firing squad.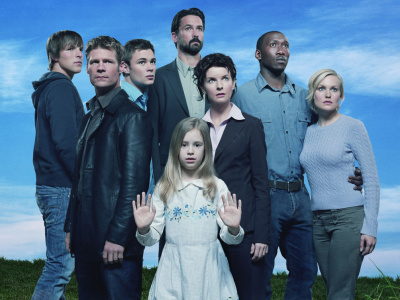 The 4400 (USA 2004–2007)
As a former comic book nerd, I was a huge fan of J. Michael Straczynski's Rising Stars. The yarn was about a group of children all conceived while a mysterious light hangs above the town of Pederson, Illinois. The babies are blessed (or cursed) with super powers, are all raised by a kind doctor and taught how to use their abilities. Do any of these elements sound familiar or reminiscent of Heroes? Well, The 4400 did it all and worlds better. The series centered on a massive group of people (and no we do not get to meet all 4400) who were abducted from the future at various points during the 20th Century and all mysteriously returned to Mt. Rainier, Washington. The group had to face many obstacles, like reconnecting with a world they have not seen in some cases for over fifty years. Eventually the series went from a "4400 of the week" format to crafting a deep mythology that became better than anything Heroes would ever do. The show also gave us the character of Jordan Collier (Billy Campbell), a messiah/Magneto-like 4400 who establishes his own society. Unfortunately, the show was a casualty of so-so ratings, budgetary constraints, and the Writers' Guild strike, and we'll never get to see the promises of Promise City.
Lights Out (FX, 2011)
I know a few people who bemoan the cancellation of Terriers, but for my money, if ever a series got the shaft after just one season, its FX's Lights Out. Take Rocky's retirement at the beginning of Rocky V, add The Fighter, multiply it by The Sopranos and you get Lights Out. After premiering strongly in Jan. 2011, the show told the story of Patrick "Lights" Leary (Holt McCallany), a former world champion who retired after losing his title and after poorly mismanaging his finances, is forced to get back into the ring. With strong performances from McCallany, Pablo Schreiber (Lights' brother, Johnny), and the incomparable Stacy Keach (the Leary patriarch, Robert) there is no conceivable reason why this show was canned so early. Great boxing action coupled with a mob story, and a family tale of woe involving Boxer's Dementia season, the finale had a great finale twist. Like many others on this list, we'll never get to find out what happened to the Champ next.
Shows That Got The Axe Way Too Soon
They might not have been ratings darlings, but these dearly departed shows never left us hanging.
Arrested Development (Fox 2003–2006)
This is quite possibly the most popular cancelled series ever. The story of the dysfunctional Bluth family aired for an all too brief 53 episodes and introduced to us all to a cast of some of the wackiest characters ever. How loved was this series? Rumors of its revival by both fans and stars alike have never tapered off since the show's cancellation. Luckily, it looks like fans are getting their wish: earlier this month it was reported the show is heading back from the grave, all leading up to what should be a monumental film.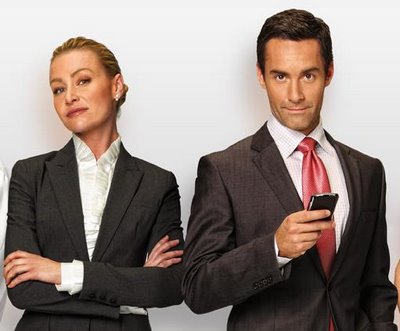 Better Off Ted / Mr. Sunshine (ABC 2009–2010 / 2011)
Ted Crisp (Jay Harrington) is a single father and the most respected and beloved head of Research and Development at Veridian Dynamic. With a comedy, there are all kinds of wacky things for a company like Veridian to be researching and developing, like cryogenics. The affable Crisp was Don Draper with a conscience. His boss, Veronica (Portia de Rossi), was an ice queen who comically knew it would behoove her to be nicer to people (like giving Phil an award for bravery in hopes of not getting sued). Better Off Ted's subversive and satirical blend of comedy sadly got lost in the shuffle of ABC's other popular comedies like Cougar Town and the gargantuan genre-crossing Modern Family, and there was simply no room for a series like this. The alphabet network would try it again with Matthew Perry's Mr. Sunshine, which is essentially the same show, except with a less likeable Ted (Perry's Ben), a more mean-spirited boss (Allison Janney) and its arena setting with circuses performances, Smurfs on Ice, and sports teams. ABC saw the hyped show dwindle faster than the Titanic – it tanked it after nine episodes.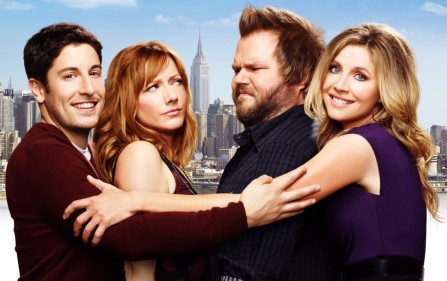 Mad Love (CBS, 2011)
It seemed like a good idea at the time. The affable Jason Biggs, along with the adorable Sarah Chalke, along with the biting wit of Judy Greer and Tyler Labine, who has become a bit of a TV curse (see: Reaper, Sons of Tuscon). Biggs' Ben and Chalke's Kate meet and start dating as the perfect couple. Anyone who watched could see the "mad love" chemistry between oddball Connie (Greer) and Larry (Labine) as the respective best friends who loathe each other. While it was always good for cutsey laughs, the series couldn't pick up enough steam for a full season order and was cancelled. But considering the show's How I Met Your Mother style humor, Mad Love had potential, which is why its cancellation was a bit of surprise.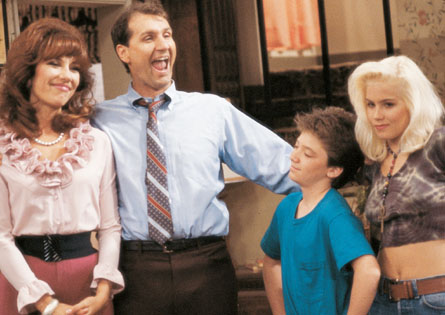 Honorable Mention: Married…With Children
Yes, this show was on for 11 years, but while while the Bundys did entertain audiences all that time and along with The Simpsons helped to put the once fledgling Fox network on the map, Fox decided that the good faith the show built up for many a year wasn't good enough to let the cast and crew know that there wouldn't be a twelfth season. Poor ratings and progressively sillier stories would end the series' run. But with the now fairly well-known story of Ed O'Neill learning of the show's cancellation from a fan instead of from the network is just a downright deplorable way to do business.
Obviously, there are plenty of shows like The Critic and Deadwood that did not make this list. It doesn't mean that I'm not aware of them, or of their greatness. But we've only got so much time. There's a bevy of reasons networks take our favorite TV shows from us, and they're all unfair because the bottom line is that we need great TV to watch, whether it's That's My Bush! or Flashforward or Jericho or some other series, a cancelled TV show is like a lost friend we only just met. Well it may not be that melodramatic, but you catch my drift.
So far this season, we've lost The Playboy Club, How to be a Gentleman, Free Agents, and Charlie's Angels luckily none of these will raise the ire of fans. However, The Playboy Club (even if it was actually good) was dead on arrival due to all the negative publicity and How to Be a Gentleman moved to the death-sentence Saturday night slot before CBS flat out nuked it. Here's hoping that any of the shows that we love this season aren't unceremoniously cancelled before their time – note to Fox, leave my Fringe alone!