'Cougar Town' Moving to TBS? How the Show Might Change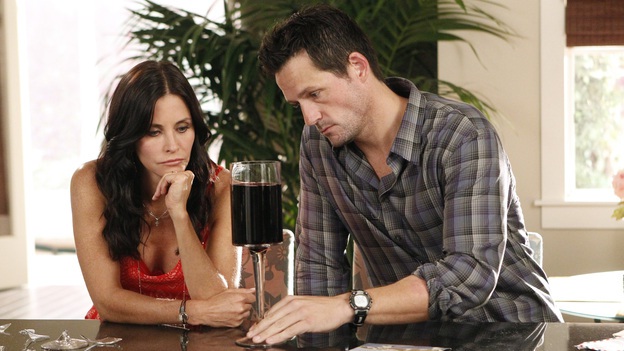 At this time of year more than any other, people really need hope. This is the season of college application responses, prom date requests, and, most importantly, television pickups. For popular, ratings-friendly shows, renewal is generally a surefire thing. But for smaller cult favorites and hidden gems like ABC's Cougar Town, the future is more uncertain. But the Courteney Cox ensemble comedy (well, the other one) didn't give up when it faced adversity for picking the worst title in television history, and it isn't giving up now: Deadline reports that the series is considering a move to TBS.
Of course, there is no word yet whether or not ABC will even be pulling the plug on Bill Lawrence's alcohol- enabling series, which is currently in its third season. However, Deadline suggests that both Cougar Town and TBS are interested in a two season pickup, with each season consisting of 15 episodes. Interestingly enough, Lawrence's previous sitcom, Scrubs, jumped to ABC, from NBC, under similar circumstances.
What could a relocation mean for Cougar Town? Likely, more liberty in the area of drunken verbal obscenities and a freer range of "only on cable" adult situations. But more importantly than that, this could be the series' only chance to finally, and seamlessly, change its title — a title infamously loathed by fans, critics and the show's staff alike. But of course, the program might have to decide between a handful of TBS-friendly titles, like Tyler Perry's House of Wine, or Team CouCou. Either one would be a step up.
More:
John Oliver: The Internet is "Killing" Community
Community Recap: Course Listing Unavailable
A Very Personal New Sitcom from Scrubs Creator Bill Lawrence
[Deadline]