'Cougar Town' Returns (On Cable!) — What to Expect from the New Season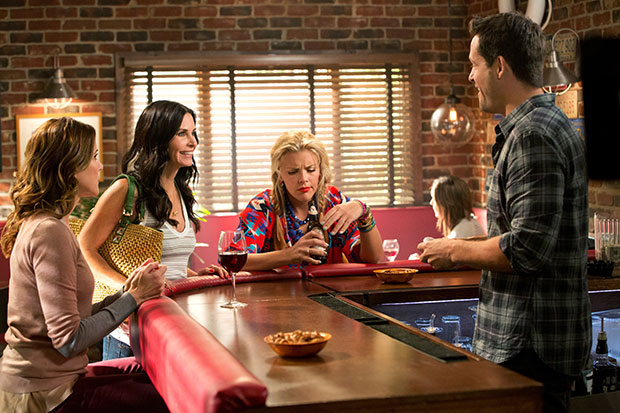 While we have been without our Floridian, ostensibly jobless friends since before the summer months, we can now thank TBS and a pair of new showrunners for reuniting us with the beloved militia of Cougar Town characters. Some might be wary of testing the waters of a non Bill Lawrence-led Cougar Town. Others might be deterred by the new cable station and 10 PM air time. Others still have never seen Cougar Town, and still think it's a show about Courteney Cox hitting on young dudes. But we know better than any of these fools. And we're ready to launch full swing into Season 4 of what has become one of the most strangely addictive comedies on television. But just in chase you're a bit rusty on your Cougar Town knowledge, here's a quick catchup to prepare you for Tuesday night's premiere…
Where We Left Off: The jarringly heartfelt Season 3 finale saw Jules marry neighbor nemesis fremesis friend boyfriend boyfremesis fiancé now husband Grayson on the beach (against Cougar Town's stringent "no beach weddings" law), with her father ordaining the ceremony, her son snapping photos, and all of her loved ones (and Tom) present for the occasion before the married couple rode off into the sunset (on a horse!) just in time to evade law enforcement. Additionally, Travis had presented his earnest feelings for Laurie in an emotional explosion fueled by wine and failing any conceivable dress code, apparently sparking some inkling of interest in Laurie despite her decision to stay with her boyfriend Wade. Ellie's still mean, Andy's still hapless, and Bobby's still vaguely brain damaged.
Best Moment of Season 3: For Scrubs fans, Cougar Town's meta acknowledgement of the extensive casting similarities between the two Bill Lawrence shows (star Christa Miller, supporting player Bob Clendenin, recurring player Ken Jenkins, and guest stars Sarah Chalke and Sam Lloyd… Zach Braff and Rob Maschio even made appearances to strengthen the joke). For Community fans, the 11th episode title card gag that read, "'I didn't know it was back on either' – Abed." For non-Scrubs/non-Community fans… well, those people don't actually watch this show, either.
Most Improved Character: All of the characters have grown substantially since the lackluster early days of the show, but the title goes to Bobby Cobb, who has evolved from a one-note dirt bag to a genuinely tragic, albeit hysterical character.
Least Improved Character: Dog Travis. We've seen almost no development with this guy.
Biggest Changes We'll See This Season: Aside from Jules' marriage and a potential relationship for Travis and Laurie subtly teased, the show has shifted networks from ABC to the cable channel TBS, and to the late hour of 10 PM. This means: more cursing! More sex jokes! More explicit alcohol abuse! Ellie can be meaner, Laurie can be more vivid in her description of her romantic escapades, and Bobby can be more inadvertently culturally insensitive. It's your call on whether these are good things or not.
5 Reasons You Should Keep Watching: To see what the show's new home, as well as its new showrunners, will bring to the flavor of Cougar Town; to win some more great Scrubs cameos (we're still waiting on you, Janitor!); to revel in the notion that someday, you can spend every single afternoon of your life relaxing in the paradise of your beachfront Florida home with your friends and family, getting drunk and shirking all conceivable responsibility; simply, to experience more Penny Canning, wine-indulging, and pop culture movie references; and of course, to see if Travis and Laurie do indeed end up together.
What We Ultimately Want to See: Cougar Town eventually turns out to be an extended Twilight Zone hypothetical, examining a human race devoid of any real drive or established code of morals or ethics.
What We'll Settle for, Since That's Absurd: More lighthearted alcoholism.
[Photo Credit: Justin Lubin/TBS]
More:
Raylan Returns: What to Know Before 'Justified' Debuts, Guns Blazing
NBC Boss Optimistic About the Future of 'Community'
Lena Dunham Addresses 'Girls' Nudity, Implores Everyone to Cool Their Jets

'Texas Chainsaw': Top 5 Leatherface Kills (Moviefone)