'Cougar Town' Season Finale: The Creepiest Kiss on TV?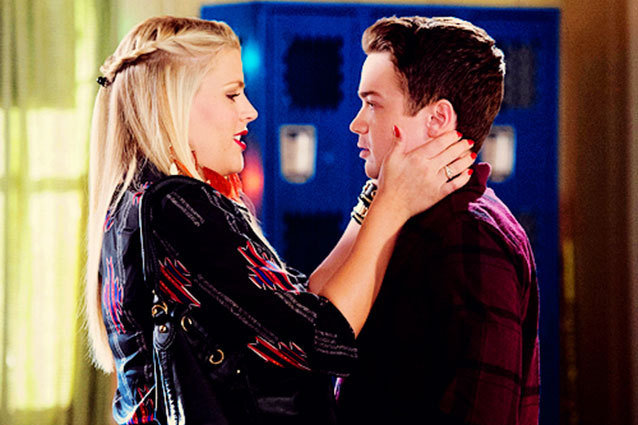 Sigmund Freud would have loved Cougar Town.
The comedy series has boasted some seriously creepy themes since the beginning, introducing them subtly and then gradually building up to an all-out psychological minefield in its latest TBS-backed season. When we met Jules Cobb (Courteney Cox) in the regrettable first chapter of the program, she was a 40-year-old mook devoted to the pursuit of much younger romantic partners. Since abandoning this cringe-inducing premise, Cougar Town has become something a ton more watchable: now, instead of fawning over 20-something males, Jules spends her time drinking wine with her best friends, torturing and teasing her husband Grayson (Josh Hopkins), and fawning over her son, Travis (Dan Byrd). In kind of an odd way.
The show has made some eye-wideningly blunt allusions to Jules' bizarre love for her son. Cougar Town frequently jokes about how her obsession with Travis teeters the lines of propriety, and how her feelings for him sometimes manifest in complicated, pseudo-romantic/sexual ways. It's all played for laughs, all acknowledged as jarring and disturbing in-universe. As such, nobody really ever calls much attention to it as a problem. What people do seem bothered by, instead, is the romance of Travis and Laurie (Busy Phillips), which culminates in a kiss in the Cougar Town season finale.
After years of pining after Laurie, his mother's former employee and close friend, Travis earned her affections this season, sealing their romantic relationship with the labored-over "perfect kiss" in Tuesday night's season finale. While those submitting wholly to the constructs of romantic love will find some fondness for the union, many will find fault with this pair. "She's his mom's best friend!" they'll say. "It's creepy!"
Yes, maybe. But you're judging it based on the standards of our universe, not Cougar Town's. Things are weird in this reality: Travis spends all of his time hanging out with his mother and father (who, by the way, are divorced, after the latter's string of infidelities… yet, somehow, they remain best friends), their neighbors (who operate in an ostensibly loveless marriage and neglect their young son, who might well be a sociopath), her mother's new husband (who is mean, vain, and whose homophobia was excused earlier this season), and the lonely voyeur who peers in from outside the kitchen window. If you look at all that madness, you'll concede that Travis and Laurie getting together is one of the least creepy things going on on Cougar Town.
It's a show founded on skewing from the confines of society's limitations, although not in any rebellious or meritorious way. Simply, in the name of lazy hedonism. Why do we give a free pass to Jules for skipping work, drinking all, and nearly lusting after her son, to Grayson for basking in his heated intolerance, to Bobby Cobb (Brian Van Holt) for cheating on his ex-wife for years, not to mention all of the other nonsense that goes on in this cul-de-sac, then why are we so troubled by Travis and Laurie?
All things considered, the two of them getting together is just about the most acceptable turn of events this show has taken. Bravo, young love. Bravo.
Follow Michael Arbeiter on Twitter @MichaelArbeiter
More:
The Dos and Don'ts of Dating from 'The Mindy Project': When It's Business Time
'New Girl' Recap: Cece's Bachelorette Party and Nick's D**k Pic
'Mad Men' Premiere Recap: Don Draper Has No Idea Who He Is
---
From Our Partners


Jessica Alba Bikinis in St. Barts (Celebuzz)


Pics of The Rock Making Things Look Small (Vulture)