'Cougar Town' Season Premiere React: Same Old 'Cougar Town', Now with Sex Jokes!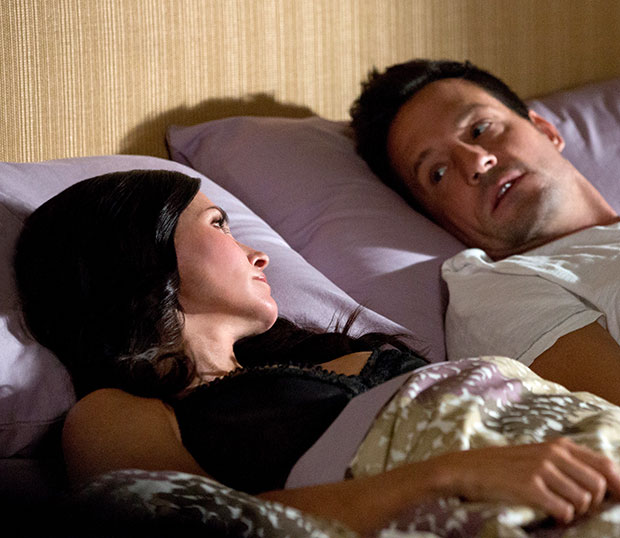 In approaching Cougar Town 2.0, one might find him or herself a bit apprehensive. What if it's… different? Less funny, lacking heart, straining its characters? Not the Cougar Town you once knew, loved, and quoted incessantly to the point of warranting intervention? What if its relocation to basic cable compels Cougar Town to go overboard with more adult material? What if the always-dreaded showrunner replacement transforms the program entirely into something alien and uninviting? What would become of us in the wake of such a fate?
Well, we might actually transform into normal people. But we don't have to entertain such a dastardly concept — Cougar Town's Season 4 premiere, its first foray with cable and a new team of behind-camera creative forces, suggests with broad shoulders that nothing, really nothing, has changed.
Okay, so maybe now they can make jokes about Bobby's hinted preference at avoiding the performance of oral sex (is there anything classier than Brian Van Holt saying "none-alingus"?), but otherwise, pretty much nothing.
The episode sets our cul-de-sac dwellers one week past our last adventure with them, wherein Jules and Grayson got married, Travis professed his love to Laurie, and Ellie/Andy/Bobby provided enjoyable side nonsense. In keeping with the always calm, pleasantly unambitious M.O. of the sitcom, the premiere kicks off with a simple "That's how you wanna play it?" plotline (actually a piece of dialogue), matching newlyweds Jules and Grayson in their first battle of wits. Grayson wants to avoid setting any domestic precedents — e.g., fetching Jules coffee and wine — despite her and Ellie's insistence that he is doomed to play busboy forever thanks to his rookie mistake in the form of the above described acts of beverage-related consideration during their first week as a married couple.
However, the fight and story structure escalate, er, mutate, when Jules has a dream about Grayson flirting shamelessly with a bar patron behind her back, inspiring some irrational waking life anger. In large, Jules' insecurities about her marriage falling apart are manifesting through her dreams and behavior, making her friends (particularly Ellie) concerned for her emotional well-being. She asserts to a stubborn Grayson that Jules is the beacon of light in their social circle, and her happiness deserves preservation. The cynical Grayson sheds his icy sheath, as he always does around the 20-minute mark, and avows himself totally devoted to making Jules happy and comfortable forever. The whole thing is squeaky clean and cheesily simplistic, but that's Cougar Town. Silly, sappy, screwy, laden with quirky banter. And there's a dance party.
The real victory of the episode comes in its B-story: the dynamic pairing of a lonely loser long past his midlife crisis and his intellectual, perpetually disapproving son. Bobby tries to instill in Travis a few valuable life lessons, notably that running away from your problems (literally) is an acceptable solution. In an effort to defy his manchild father's irresponsible maxim, Travis attempts to not only point out the error in evading confrontation, but to force Bobby (and Andy, Andy's also there!) to endure their hardships respectably. In the end, Travis takes a page from his old man's book in running away when Laurie insists they discuss his profession of love for her — and along with being genuinely funny, it's kind of sweet. The whole Bobby/Travis relationship is, as we see highlighted this week.
Watching Bobby try to teach Travis, and Travis try to teach Bobby is at once hilarious (they are, in fact, the funniest individual performers on the program) and sad. Bobby is a tragic and pitiable, but lovable character — doomed to a life of solitude thanks to a youth of debauchery from which he has apparently grown a distance. And Travis is a young man built from the ground floor on solemnity, adorning his defensive wall with brick layers of sarcasm and self-righteousness. The pair has a great deal of weight to toss around. They might never see eye to eye, might never truly understand one another, but they do care for each other — both men strive to instill in the other lessons of self-betterment, often to little avail. No exception here.
For its sentimentality and its free spirit alike, we're glad to have Cougar Town back — the very Cougar Town we remember. Same corny sense of humor, colorful aesthetics, and unabashed dedication to presenting the unique world in which these oddballs can sprout from every crack in the wall, feasting only on wine and hokey wordplay. Welcome back, old friend. We missed you dearly.
[Photo Credit: TBS]
More:
10 Bitchiest Moments From This Week's Don't Trust the B—- in Apt. 23
Anna Camp is Not Leaving 'The Mindy Project' and More TCA Scoop
'American Idol' Judges Don't Do a Very Good Job of Dispelling Feud Rumors

Megan Fox's 12 Hottest Moments (Moviefone)