'Criminal Minds' Star Thomas Gibson Teases Possible Finale Death — EXCLUSIVE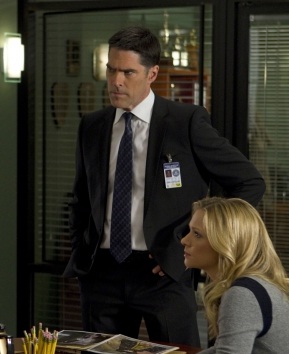 Criminal Minds fans might need to see a psychiatrist as they head into the Season 7 finale. The cast's fate is completely up in the air. The finale teaser trailer has focused on the fact that one of the team will be "gone" by the end of the two-parter – the episodes are titled "Hit" and "Run" respectively. Couple that with the definite fact that star Paget Brewster is leaving the show (possibly in a body bag?) to pursue other options. Are the two related? Not so fast. Hollywood.com recently spoke with Criminal Minds main man Thomas Gibson, who plays Aaron Hotcher, and he was sure to give fans something to think about for the finale, including a random wedding and possible death. Could two cast members be leaving? The answer is just one of five big reasons to tune in for the finale.
Emily Prentiss Gone Forever?
All the talk leading into the finale has been that Brewster will have the option of coming back to the show for cameos next season. But Gibson asks that we prepare ourselves for the unexpected. "We love Paget and there's definitely going to be a huge hole once she's gone," he says. "It's too bad. but this is what happens, people move on and do their own thing."
But can we assume she won't die? Gibson isn't so sure: "I wouldn't anticipate anything really. Just let this thing unfold and see if you were right at the end." This could be one of the biggest hoaxes in TV history if the cast agreed to keep saying, "Sure, Paget can come back next year," all the while knowing she'd be killed in the finale. And according to Gibson, that's not impossible.
A Teammate in Chains
"Well, you'll have to watch but not unlike what would really happen, we try to send somebody in," says Gibson. "You try to do as many things as you can, you try to appeal to the rational side of people holding the hostages, but that doesn't work in this case."
So, one of the team goes in and Gibson says it's not him, but that leaves everyone else and with a show like this, it could be anyone. The show saw two people leave the team last year, why not this year as well? "I can definitely say there's going to be some surprises along the way," Gibson says. Cryptic much?
There Will Be Blood
"You think you know what you're dealing with as far as [just] a robbery in progress goes," says Gibson, adding that in Criminal Minds' usual patented method, the robbery team, including kick-ass guest star Tricia Helfer (dressed like face cards in a deck), of course kills one person at each stop. "When we discover they are more than bank robbers, that's when our expertise kicks in," the actor says.
What's All This About a Wedding?
Criminal Minds may be the strangest setting for a network TV wedding, but Gibson says one is on the way: "I would say that anybody guessing who is going to end up at the altar at the end of the second part is going to be surprised if you had asked them halfway through who it's going to be." Well, that eliminates the obvious choice: JJ and Will. So who could it be? (And this had better be good.) "It's nice because it's a slightly different ending than we normally have," teases the 49-year-old. But how different? Different like a wedding between murderous bank robbers?
Gibson Ditches The Suit
What's the real scoop about this explosive finale? "I'm not in a suit," Gibson laughs. Death looms all around like a black cat in an old folks home, and Gibson still has jokes. It's nice to see all his comedy training from his Dharma & Greg days hasn't been brutally ripped out of him by some clown killer.
The Season 7 finale of Criminal Minds airs 9 PM (ET/PT) May 16 on CBS. #GoodbyePrentiss.
Follow Mike Rothman on Twitter @TheRealRothman
[Image Credit: CBS]
More:
Battlestar Galactica Star Tricia Helfer to Play Criminal Minds Villain
One on One: A.J. Cook Previews 150th Episode of Criminal Minds