The CW Premieres 'Cult': Should You Get Hooked on This Madcap Show Within a Show?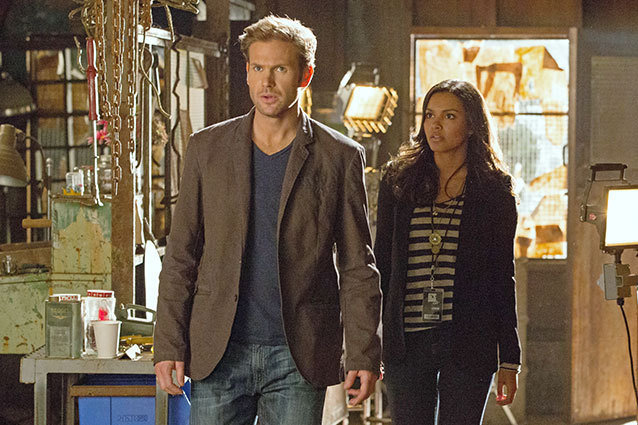 You never know who could be "one of them." It could be your weird younger sibling. It could be the mega-hot bar waitress you never thought you had a chance with. It could be the detective investigating your brother's mysterious disappearance. Or in Cult's case — The CW "show within a show" mystery thriller that premieres on Tuesday — it could be all of the above.
The "basic" premise is this: Jeff (The Vampire Diaries' dearly departed Matthew Davis) begins to investigate his brother's disappearance, after said brother leaves an ominous message about the TV show Cult (to keep things as simple as possible, Cult the show-within-a-show will not be italicized).
(Coincidentally, the show-within-a-show airs on the Cult universe's version of The CW. Only in this version of The CW, Cult airs after Arrow instead of Hart of Dixie. Also, in this universe, Emily Owens, MD was never canceled. This universe sucks.)
He's joined by a foxy, extremely well-dressed for her salary research assistant (Jessica Lucas), and the pair discover a whole bunch of mysterious crimes/deaths that seemingly connect to the show. Got that? It's a lot to take in.
You'll like it if: You always thought that The Ring and Fox's new show The Following should have a baby. A really twisted, convoluted little baby.
RELATED: CW's 'Cult' Will Ruin Your Life in the Best Way Possible
Top 5 Reasons You Might Want to Watch: Because Matthew Davis is compelling in everything he's in, ever. Because the pilot is confusing as f***, but you're so frustrated to know the truth that it leaves you wanting more. Because, if you love Degrassi, Stacey Farber AKA "Ellie the cutter" will recur this season. Because you like the cult elements of The Following, but you hate reading, so you'd rather "follow" a TV cult than a literature-based one. Because you're my colleague Sydney Bucksbaum and you watch everything that's on The CW and love it, even if it's Emily Owens, MD.
5 Reasons You Might NOT Want to Watch: Because you're a die-hard Supernatural or TVD fan and feel personally attacked by the show's depiction of rabid fan-bases. Because you're a die-hard SPN fan and you hate Cult (and Cult) star Alona Tal, because you hate every female that has ever appeared on the show except for Kevin's mom. Because you're boycotting Alaric's death on The Vampire Diaries. Because you realize how ridiculous it is that someone with a research assistant's salary could afford so many leather jackets. Because you're not CW-fanatic Sydney Bucksbaum.
Love it, or Leave it?: Love it if you're easily hooked in to mysteries (and don't mind multiple confusing layers), leave it if you're a recent cult survivor. And if you're Sydney Bucksbaum, you're likely watching already.
Follow Shaunna on Twitter @HWShaunna
[Photo Credit: Jack Rowand/The CW]
---
From Our Partners:


40 Most Revealing See-Through Red Carpet Looks (Vh1)


33 Child Stars: Where Are They Now? (Celebuzz)