'Cutthroat Kitchen' Recap: Battle of the Accents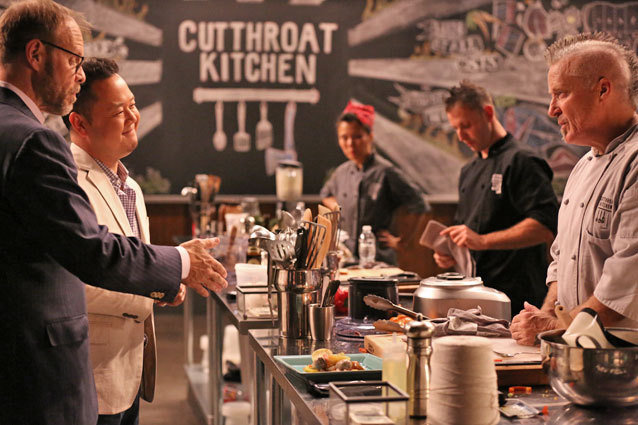 Food Network
Cutthroat Kitchen episode "Chicken Cordon Blue" (you'll see why it's misspelled in a minute) features four chefs with distinct accents and even more distinct attitudes. Chef Sandra, is Dutch but spent time training in Spain. The result is she sounds a little like Penelope Cruz as a Muppet. Chef Jack says he was inspired to become a chef because Jack Tripper (John Ritter) was a chef on Three's Company. Chef Michael had a typical Boston accent and prefaces every round with how amazing he is. Finally, Chef Chris sounded like your best friend's passive-aggressive mother.
 Their accents are so important because their cooking doesn't seem very appetizing at times. The sabotages are in full effect in this episode. There are a few passable looking dishes including a vegetable lasagna with zucchini subbed for pasta and a healthier spin on chicken cordon bleu with kale.
 Here is a breakdown of the sabotages of the night:
Killer Sabotage – Chef Michael has to replace the protein for his chili with canned roast beef. He also can't taste his dish. The canned meat is a bullet that takes him out.
Most Justifiable Sabotage – Chef Chris talks a lot of smack about how intimidating and brags when she wins the first auction. She gets a karmic smack-down in the form of having to make fresh pasta and use green tomatoes in lasagna … in thirty minutes.
Best Use of a Sabotage – Chef Jack forgets breadcrumbs from the pantry. He ends up losing the auction and having to use blue cookies in his cordon bleu. He breaks down the cookies, seasons the crumbs and makes a halfway decent breading for his chicken.
 Meanest Sabotages – Chef Sandra gets the meanest sabotages of the night. One sabotage is to shred an entire block of Parmesan before she can finish cooking. The other is doing all her cooking and prep using tools from a tool box.
Best Dish – Chef Sandra's cordon bleu looks the most appetizing. She incorporates kale and makes it lighter than the rich dish.
Worst Dish – Chef Chris's lasagna roll-up is by far the worst dish of the show. Her pasta comes out thick and uncooked and is wrapped around large hunks of un-rendered pancetta.