'Cutthroat Kitchen' Recap: Someone's Lucky (Season 1, Episode 13)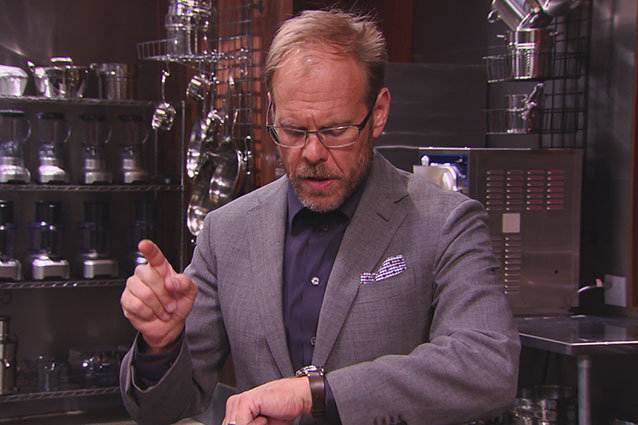 Food Network
It's always great to see some of your favorite cheftestants on different cooking shows. On the season finale of Cutthroat Kitchen, "S'more Sabotage," Top Chef star Tiffany Derry is back with her winning personality and insane luck. Chef Tiffany didn't win Top Chef: Season 7 or Top Chef: All Stars but she was a Fan Favorite and won a number of the cash prizes.
Chef Tiffany's first competitor is Chef Blankenberg who says he is a private chef for a bazillionaire. Meanwhile, he has a bazillion letters in his name. Chef Rocco is a Cleveland chef and the token bald male chef for the episode. Chef Wang introduced himself to all of America by saying, "The Wang is in the house."
There were some bizarre sabotages this episode and even one that was too hot for TV.
 Here is a breakdown of the sabotages of the night:
Hottest Sabotage – Chef Tiffany has to literally build a fire in order to make s'mores. It's fine to have a bizarre source of heat but to have someone build a fire can be a real burn.
Meanest Sabotage – Chef Blankenberg has his entire cooking prep station and items taken away and replaced by a TV table and whatever he can grab in 10 seconds.
Grossest Sabotage – Chef Blankenberg has to use bread from a batch of day-old gas station sandwiches in his meal.
Sabotage Hat Trick – Chef Blankenberg makes enemies by replacing his competitors' knives with kiddie scissors, a butter knife, and a box-cutter. He gets slammed with an ingredient swap, on top of the gas staton sandwiches and the TV Table.
Best Sabotage Comeback – Chef Tiffany has to use kiddie scissors in one round then a multi-tool in another but still manages to plow through.
Unaired Sabotage –  According to the Aftershow, Chef Tiffany has to collect all the chocolate for he s'mores from whatever candy she can get out of a piñata. That means unwrapping a whole mess of tiny chocolates.
Best Dish – Chef Tiffany makes a very delicious looking lamb chop with a puree of sweet potatoes and a swiss chard roll of peaches and pancetta.
Worst Dish – Chef Blankenburg has 99 problems and his dish is one. Despite his three sabotages he actually chooses to make a sandwich composed of a nest of fried udon noodles, a fish patty, and a piece of clammy fried chicken. When good carbs go bad.