CW's 'Arrow' 1st Look: 'Hunger Games' Meets 'Hung'

Earlier this year, the CW picked up a heap of new shows, including the superhero series Arrow. Like the CW's Smallville, the new show is inspired by a D.C. comic book series (Green Arrow), and will expand on the character and world created in the comics.
In January,
Arrow
was given its first cast member:
Stephen Amell
. He plays the lead: billionaire Oliver Queen/super-vigilante the Green Arrow. Although Amell has had guest and supporting roles on a slew of television programs, most notably HBO's
Hung
—on which he played an "up-and-coming" prostitute and rival in the business to hero Ray (
Thomas Jane
).
Amell's Arrow character looks to be far closer to The Hunger Games than to Hung. As you can see below, Amell sports the dark, threatening look of a modern day Robin Hood, complete with an archery set that is likely to cause a few of Star City's criminals a great deal of pain. But is Amell as adept an archer as THG star Jennifer Lawrence?
David Nutter, who worked on 
Smallville
, is directing the pilot for
Arrow
.
Katie Cassidy
will star opposite Amell as his love interest, lawyer Dinah Laurel Lance.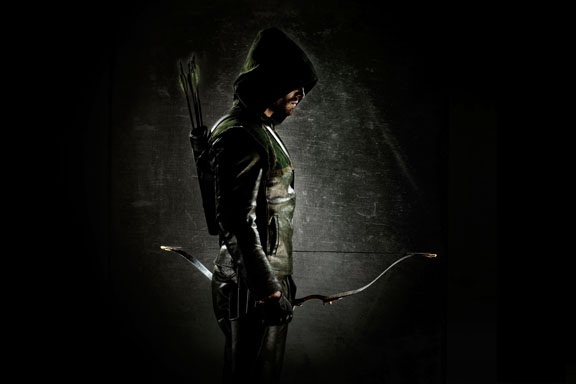 Source: Chicago Tribune