'The Originals' & 'Tomorrow People' Previews Dazzle at the 2013 CW Upfronts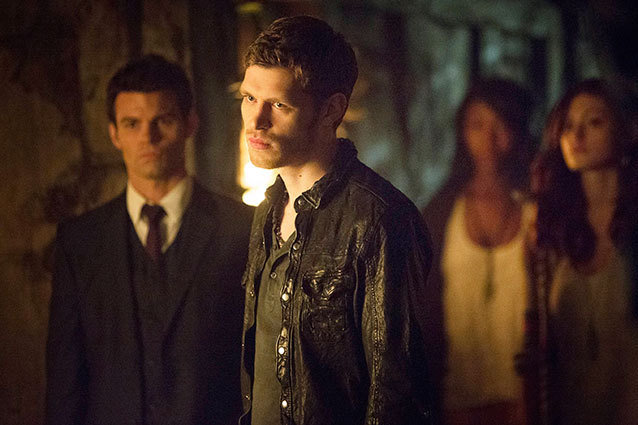 Every year, The CW Upfront presents a rather delightful prospect: glimpses of new opportunities for romance, action and swooning and more young, hot actors than anyone's brain can handle (and hopefully all the advertisers will want to buy). The 2013 presentation was no different and the CW has clearly tapped into its best genres for its slate of new shows: ill-fated lovers, warring supernatural species, and (of course) handsome hunks.
The Originals
As we saw in the crossover pilot episode of The Vampire Diaries, The Originals is packed with the sex and intrigue we've come to expect from Klaus and his family of original vampires. Mix that with a little voodoo by way of New Orleans, and we've got what feels like a fresh take on a set of characters we've known for three seasons. While we'll miss Rebekah, Klaus, and Elijah on TVD, there's not a single piece of this that isn't beckoning us like a werewolf to the new moon. "Family is power," according to Klaus and despite the lack of new footage in this preview, we're firmly in agreement.
The Tomorrow People
"In Season 2 [of Arrow], I get to share Wednesday nights with my cousin Robbie," said Stephen Amell before these clips played. In case you didn't make the connection, Robbie Amell, star of The Tomorrow People, is cousin to Arrow's leading shirtless hero Stephen Amell. Banking on that familial connection, The Tomorrow People and its mutants warring against the tyranny of human prejudice aim to nab a little Arrow action in its slot right after the superhero saga. Luckily for the younger Amell, his series looks to have a quite a hook with his troubled hero. Despite the similarities to the X-Men, the show plays well with Amell's (Robbie's, that is) charms and the charisma of his co-stars, including Lost alum Mark Pelligrino as the ruthless antagonist. The action is high and the emotions run deep. It shouldn't take much for Arrow's audience to fall in love with The Tomorrow People.
Reign
Switching gears a little bit is Reign, which takes on the tale of Mary Queen of Scots as she is sent to France to be married off to a young prince. What she finds is a handsome young man who has no intention of actually tying the knot and danger beyond her wildest dreams. The series looks to be soapy, sexy, and dangerous, like a looser, PG answer to  The Tudors. While there is a bit of a triangle, the real draw is Mary's need to act as a strong heroine, something that is a bit different for the network. If done right, this could be a refreshing new twist on the CW formula.
Star-Crossed
Star Wars: The Clone Wars and 90210 fans, rejoice. Matt Lanter is not only returning to television right after both of his beloved series have ended, but he's returning as the perfect hybrid of his past characters: a sci-fi hunk in live-action. In this mid-season show, Lanter plays a teen alien who suffers persecution as a child but makes it to his high school just in time to participate in a program aimed at integrating the alien population with the humans. Isn't Lanter a little long in the tooth to still be in high school? At the center of it all is Lanter's romance with his human schoolmate, played by Aimee Teegarden of Friday Night Lights fame. Will they make it? Not without episodes upon episodes of drama, that's for sure.
The 100
No wonder there have been lots of comparisons between this series and The Hunger Games, though the feel is somewhat more along the lines of Battle Royale, the Japanese movie that real film nerds claim was the inspiration for The Hunger Games. In the future, a space society expels its juvenile delinquents to Earth as guinea pigs meant to assess the inhabitable nature of the ravaged planet and deal with the radioactive deer, new enemies, and violence between the young criminals themselves. There's not much emphasis on the potential romance in the series, which could be dangerous for a series on a network were love stories are a vital part of every show. But if the characters, story, and action are good enough (see: Supernatural), it just might work.
Follow Kelsea on Twitter @KelseaStahler and follow Hollywood.com @Hollywood_com
More:
CW Reveals New Fall 2013 Schedule
CW Orders 'The Originals,' Re-ups on 'Hart of Dixie' & More
Fox Reveals Previews of New 2013 Line-up 
---
From Our Partners:


Zoe Saldana Strips Down For Magazine (Celebuzz)


33 Child Stars: Where Are They Now? (Celebuzz)