Watch the Cameo-Infused Magic That Ensued After Daft Punk Canceled on 'The Colbert Report'
Comedy Central hath no hilarity like a Stephen Colbert scorned by Daft Punk.
This is how you go from being a chump to being a champ. Colbert had booked the ubiquitous Daft Punk for his Colbchella concert series (sponsored by Hyundai!), but the robot-masked duo pulled out after intervention from MTV head Van Toffler, who wanted their secret performance on the upcoming Video Music Awards to be their sole appearance in the next month. Viacom owns both MTV and Comedy Central, so even Colbert had to bow to the suits' will.
But Colbert put on one heckuva replacement, recruiting Hugh Laurie, Jeff Bridges, Matt Damon, and Bryan Cranston to dance with him on Daft Punk's song-of-summer smash, "Get Lucky," and crashing the sets of Charlie Rose, Late Night With Jimmy Fallon, and America's Got Talent along the way. It begs the question…this replacement sketch required a lot of set-up, so when exactly did Colbert get word from Toffler that Daft Punk would be pulling out? It seems it must not have been a particularly last-minute decision, since he was also able to book Robin Thicke to perform "Blurred Lines" instead. Let the conspiracy theories begin! But no matter, here are 12 things we absolutely loved about Colbchella's retooling last night.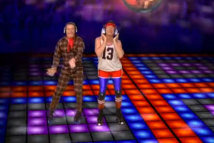 1. That the Colbchella logo replaced "with special guest Daft Punk" with "with special guest Stephen Colbert," making it the most Tyler Perry-esque concert name ever.
2. The Hyundai executives watching in stone-faced horror how their money was being misused. Also, that the silent y in Hyundai stands for "youth marketing."
3. That Colbert totally outed Daft Punk's "secret" VMA's performance.
4. The realization that Ashton Kutcher still wears trucker hats.
5. That Hugh Laurie can take a punch with the best of them.
6. Jeff Bridges' oddly buttocks-centered dance moves. Would we call this "booty popping"?
7. The return of Tek Jansen! With Lady Nocturne! (But where was Porpy and his friend?)
8. An even more bearded Jon Stewart skyping in from an undisclosed location in the Middle East.
9. Henry Kissinger calling security and the realization that Henry Kissinger is still alive.
10. Bryan Cranston rightly pointing out that you can only wear a plaid suit if you have an accompanying red scarf.
11. Headphones with double antennae.
12. The idea of Matt Damon in a Matt Damon booth.
Follow Christian Blauvelt on Twitter @Ctblauvelt | Follow Hollywood.com on Twitter @Hollywood_com
More:
Get Lucky With New Daft Punk 'Get Lucky' Condoms
Stephen Colbert Pays Tribute to Late Mother
Stewart and Colbert Rage Against the Zimmerman Verdict
---
From Our Partners


Stars Pose Naked for 'Allure' (Celebuzz)


20 Grisliest TV Deaths of 2012-2013 (Vulture)