'Dallas' Finale: So Who Shot J.R. and Actually Killed Him? We Found Out!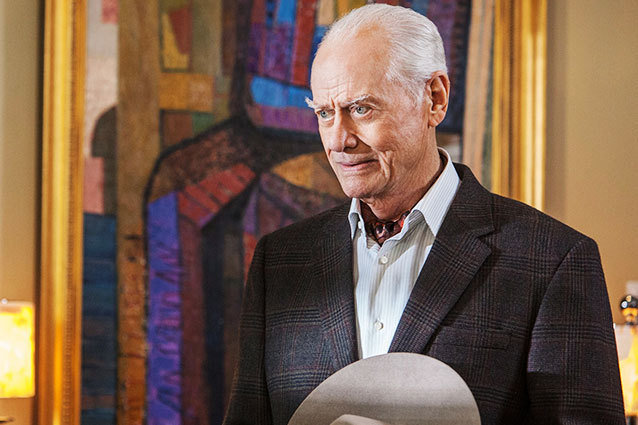 J.R. Ewing, you will be missed. The mystery of the iconic villain's death came to a close in the Season 2 finale of Dallas on April 15. It was a fun puzzle-box solution that perfectly fit in with 34 years of established Dallas lore and gave Larry Hagman the send-off he probably would have wanted: J.R. getting the last laugh.
SPOILER ALERT! IF YOU DON'T WANT TO KNOW WHO SHOT J.R., WHY ARE YOU READING? 
In his final phone call, J.R. called a plan he had cooked up "my masterpiece." Boy, was it ever that. In that tear-stained letter from J.R. that Bobby couldn't bear to read without bawling, J.R. said he'd been given just days to live by his doctors. "Damn cancer." So he decided to make his death mean something and have it settle once and for all the feud between the Ewings and Cliff Barnes. J.R. would have his right-hand man, Bum, shoot him, and then tweak the evidence to make it look like Cliff was the culprit. J.R. knew that Cliff summered in Mexico, where he attended a marlon-fishing tournament each year. That's why J.R. decided to take a little trip down Mexico way himself. Bum was able to swipe Cliff's gun at the tournament…which he used as the murder weapon, then had it planted back in Cliff's car. 
The Ewings and young Pamela Barnes all assumed Cliff was the killer, but they didn't feel there was enough evidence to get him arrested. So they planted J.R.'s belt buckle in Cliff's safe. This required the collusion of Bobby, the one person who knew for certain that Cliff was innocent — from J.R.'s letter. Yet Bobby agreed to it, just so his family could be free of Cliff and his machinations forever. This last point may have truly been J.R.'s masterpiece, because he finally succeeded in drawing out the darkness in Bobby's apparently angelic soul. At last, his little brother had been corrupted. And now, without J.R. to do the Ewings' dirty work, that responsibility will probably fall to Bobby. It took J.R.'s death for him to finally remake his younger brother in his own image.
Is that a payoff or what?
Follow Christian Blauvelt on Twitter @Ctblauvelt
More:
'Dallas': Larry Hagman's Final Episode Is Fit for a Ewing
---
From Our Partners


Jessica Alba Bikinis in St. Barts (Celebuzz)


Which Game of Thrones Actor Looks Least Like His On-Screen Character? (Vulture)