Larry Hagman's 'Dallas' Tribute: Who Shot JR…and, This Time, Killed Him?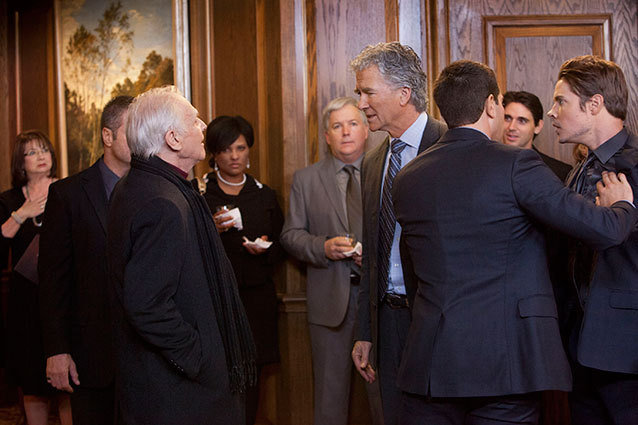 It's widely known that when Larry Hagman donned the ten-gallon hat once again for the first table-read of Cynthia Cidre's pilot script for the 2012 TNT reboot of Dallas, he introduced himself thusly: "Larry Hagman. Icon."
It's hard to quibble with that. The relaunched Dallas sure hasn't. Its hour-long farewell to J.R. Ewing Monday night was poignant, funny, and, above all, reverent for the character in its irreverence. For the actors involved, including Patrick Duffy, who considered Hagman his best friend, it must have been doubly painful because they, in essence, had to bury the man twice: once, after Hagman died of complications from cancer in November 2012, and again when they had to give his infamous alter ego J.R. an equally worthy send-off. Rather than the usual Dallas fanfare of a credits sequence, the theme music was stripped down to a few mournful, "Taps"-like horns before the montage settled on one last lingering close-up of J.R. as Hagman most recently portrayed him on the show—stern, wily, and sporting the wildest pair of eyebrows on TV since Andy Rooney.
In his old age on the new Dallas, J.R. once said "bullets don't seem to have an effect on me." Of course he was referencing the most buzzed-out cliffhanger in TV history: when he was shot by an unknown assailant at the end of the spring 1981 season. He survived that assassination attempt. But not this one. Indeed, it was a bullet that ultimately claimed J.R.'s life, when he was gunned down inside a Mexican hotel room after possibly having dealt with a cartel representative and definitely having had relations with a señorita of shady repute. Once again we have to ask the immortal question: "Who shot J.R.?"
RELATED: What Do You Hope for from Larry Hagman's Final 'Dallas' Episodes?
Always a step ahead, it seems J.R. knew in advance who was gunning for him and even left a note for his brothers Bobby and Gary, to that effect. Oh, that's right. Ted Shackleford's Gary Ewing, the black sheep of the family who sought refuge in Knot's Landing, returned! If ever there were an occasion to reenter the Dallas-verse, J.R.'s death was it. On hand were also Charlene Tilton as Lucy Ewing, Bobby and J.R.'s niece; Cathy Podewell as J.R.'s second wife Cally; Deborah Shelton as one of his more memorable mistresses, Mandy; Steve Kanaly as Ewing bastard, and Bobby and J.R.'s half-brother, Ray; and most important of all, a sweet bottle of bourbon in Sue Ellen's supposedly sober hands.
Ah yes. The moment we've longed for/feared is at hand. Sue Ellen (Linda Gray) has resumed her drunken ways. Bourbon and branch water are tempting enough on their own. Bourbon and branch water in a bottle marked "J.R. Ewing" is more tempting still. Bourbon and branch water in a bottle marked "J.R. Ewing" to be imbibed after J.R.'s death and following the reading of a weepy note from him? Totally irresistible. She'll be back to Betty Ford before the season is out. Her one possible saving grace? She's at least honest about the fact she's off the wagon. "I think I have never wanted a drink more than I want one now," she said at the funeral reception.
Mind you, there was another undesirable return at that reception: Ken Kercheval's supervillain, Cliff Barnes. He burst in with the fighting words, "I came to pay my disrespects, and good riddance!" then proceeded to call J.R. a "junkyard dog." He was subdued quickly enough and kicked out, and with no fisticuffs. I suppose Christopher (Jesse Metcalfe) and John Ross (Josh Henderson) don't have the stomach to fight an old man, even if he's an old man hellbent on destroying their family. They didn't feel the same way about a fellow (much younger) reception guest, however, who decided to call J.R. a "selfish prick." That led to one of the best exchanges we've ever seen between Christopher and John Ross: the former backing off J.R.'s son with a gentle brush of his hand, saying "I got this, cousin," then taking a slug at the foul-mouthed offender. What would a Ewing family gathering be without a few dislodged teeth? (Oh yeah, Cowboys owner Jerry Jones and Mavericks owner Mark Cuban were also there, but somehow we think they avoided the melee.)
The burial itself, set to the old spiritual "Down to the River to Pray," was a more moving affair. J.R. was a military man in his day, so he lay in a flag-draped coffin. Everyone had an opportunity to say a few words, and Lucy teared up when it was her turn. She said everything he did seemed so horrible when he did it, but with hindsight it had become apparent that he was the most honest person of all—because he knew what had to be done and did it. Christopher, J.R.'s nephew, said that, since he was adopted, J.R. only let him into the Ewing inner circle once: after his mom, Pam (Victoria Principal, notably absent) walked out. "I don't know why she left," J.R. told the grieving boy. "But you're a Ewing now, so stop crying and behave like one."
Sue Ellen, soused as can be, said J.R. was "the most infuriating, charming scoundrel [she'd] ever known. He was enough to turn a woman to drink." Then, admitting that she was drunk even then, read his final letter to her, in which J.R. said his greatest hope in life was the possibility of earning a second chance with her. To start, he asked her out to dinner, if she'd be available upon his return from Mexico.
Bobby was a tad more reflective. "It's always been easy for me to do good, because I could always count on J.R. to do bad," he said. "But those bad things were necessary." Does this mean that one of the most goody-goody characters in all of TV will suddenly take a little walk on the Dark Side, to fill J.R.'s shoes?
After the funeral, Ray and Gary met with Bobby, John Ross, and Christopher to go through J.R.'s effects. It turns out J.R. had recently gone to Abu Dhabi to put together an oil deal that he felt would lure Pam out of hiding. Victoria Principal has repeatedly said she will never return to Dallas, so why the show would decide to throw this particular red herring out there was surprising. As part of his will, he left a handgun for John Ross to protect himself from Cliff Barnes, who surely will be gunning for him. And finally, he left a note for Bobby that presumably named his killer. Bobby, maybe already embracing that Dark Side, decided that they would further the idea that J.R. had been killed randomly by a mugger, while they settled the score against his real killer, in the family way. "I knew you'd have one more up your sleeve, J.R….And it is a good one." Maybe it was so good, that's why this episode was called "J.R.'s Masterpiece."
This was the perfect note for the departure of one of TV's all-time greatest antiheroes: a note of intrigue. J.R.—and probably Hagman—wouldn't have had it any other way.
Follow Christian Blauvelt on Twitter @Ctblauvelt
[Photo Credit: Skip Bolen/TNT]
---
You Might Also Like:


8 Male Stars With Tramp Stamps


Stars Who Have Lost Roles For Being Too Hot (Celebuzz)