'Dallas' Season 2: What Do You Want To See From Larry Hagman's Final Episodes?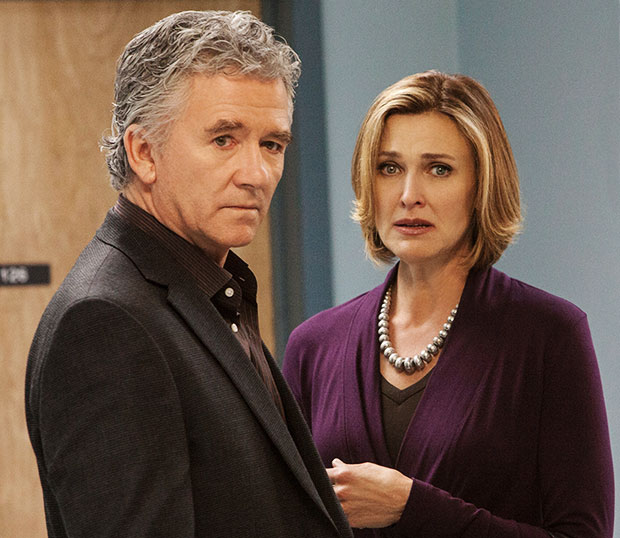 Producer Cynthia Cidre's reboot of Dallas didn't turn out to be one of the great guilty pleasures of 2012. It turned out to be one of the great pleasures, period, of 2012. Tonight it returns for Season 2, with a spectre of grief — and remembrance — hanging over it. That's because, following Larry Hagman's death on Nov. 23, after a long battle with cancer, it's obvious his iconic Dallas creation J.R. Ewing has only a limited number of episodes left to air. Seven episodes to be precise, with a funeral for J.R. set for March that may feature cameos from veterans of the original Dallas television series.
When we last saw the gang at the Southfork Ranch, we received a Texas-sized revelation. Rebecca (Julie Gonzalo), who we already knew had tricked Bobby's son Christopher (Jesse Metcalfe) into marrying her and having a baby, was far more treacherous than anyone had yet realized. She is, in fact, the secret daughter of Ewing family nemesis Cliff Barnes (Ken Kercheval), and she's helping realize her father's ultimate endgame to destroy the Ewings and take Southfork for himself!
We also got what we had been waiting for during all 10 episodes of the rebooted Dallas' run: Christopher and Elena (Jordana Brewster) finally hooked up! They had previously been a hot-and-heavy couple, but that scheming Rebecca sent a cryptic email, posing as Christopher, to break off his relationship with Elena. Sort of a reverse Catfish scenario. Now Elena, Christopher, and Bobby were set to square off against J.R. and his son John Ross (Josh Henderson) for control of the ranch and the company that Christopher and John Ross had recently founded, Ewing Energies. All the while, Cliff Barnes waits in the wings.
In the summer of 2012, Dallas debuted to an audience ripe for new nighttime soaps and scored blockbuster ratings for TNT. The same people who flocked to Revenge and Scandal love Dallas. What's old is new again. The rebooted Dallas works so well, because it's actually not a reboot. The first 10 episodes basically played as Season 15 of the original Dallas, picking up 21 years later from where the show left off when it ended its original run on CBS in 1991. Cynthia Cidre's take on the show was not to make it Dallas: The Next Generation. Instead the addition of the young, hot actors playing the heirs to Larry Hagman and Patrick Duffy were integrated into the original power dynamics of the old show. Rather than generational conflict fueling the drama, J.R. and his son John Ross face off against Bobby and adopted son Christopher, pretty much exactly like we could have imagined it in 1991. Its the exact same battle lines. Better still, the new characters actually aren't new. John Ross and Christopher were introduced as children during the show's CBS tenure.
Will you be watching when Season 2 premieres tonight? And, like me, are you hoping Dallas' success means a relaunch of spin-off Knots Landing is in the works?
Follow Christian Blauvelt on Twitter @Ctblauvelt
[Photo Credit: Skip Bolen/TNT]
More:
'Dallas' Plans Proper Funeral, Storyline for J.R. Following Larry Hagman's Death
Funeral Episode Set for Larry Hagman's J.R. on 'Dallas' Season Two
Larry Hagman, 'Dallas' Star, Dies at 81

20 Hottest Celebrity Bikini Bodies