'Dancing' Backstage With Louis van Amstel: Is This The Most Emotional 'DWTS' Season Ever?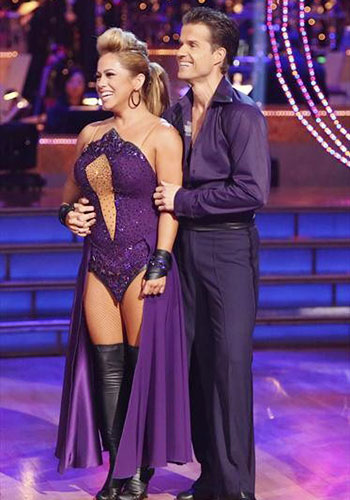 During most seasons of Dancing With the Stars, it takes at least four or five weeks before eliminations start getting emotional. But according to Sabrina Bryan's coach and partner, Louis van Amstel, this season is a whole new ballgame. 
Van Amstel spoke to Hollywood.com from the set of DWTS, and told us that emotions are already running high. "Last week when Joey [Fatone] and Kym [Johnson] left, we were choked up, some were crying, and it's only Week 2. Normally, that doesn't happen until midseason, or [Week] 7, when you have to say goodbye to people you really build a friendship with. This season it's like that every results show," he says.
In fact, it's downright sweet backstage when it comes time to say goodbye to one of their own. "Everybody's goofing off in the afternoon, and joking, 'Oh thank you, but it's time to go home.' But when the show starts, everyone is serious and encouraging each other, and it's really a sweet energy backstage," says van Amstel.
But it's not just eliminations that get Bryan going. Van Amstel says she gets very concerned about her performance each week. "I just said, 'The energy in the room felt like we won … Just do what you have been doing, take your time and enjoy the ride.' And she kept saying, 'I want to do Mel B proud. It's such an honor to have her dedicate her paso doble to me in Season 7…'" says van Amstel.
And it makes sense that Bryan would be so worried. The talented dancer was eliminated far too early when she first was on Dancing With the Stars in Season 7. "Sabrina, the poor girl, is so scared that what happened in Season 5 [will happen again,] that she takes risks, she gets a low score, and then it's her time to go home," he says. It's why Bryan was so insistent on "not breaking the rules" in Monday's night's video package before her paso doble with van Amstel.
But no matter what tonight's results are, Bryan's heart is clearly in the right place. "What I love about her … is to hear her say 'I just want to do justice to the song' and 'I just want to do justice to the fans who voted me back in.' She is a piece of lemon humble pie," says van Amstel.
Are you rooting for Sabrina and Louis? Do you think they'll hang on through tonight's double elimination?
Dancing With the Stars airs Tuesday night at 9 PM ET on ABC. And this time, two couples are going home.
Follow Kelsea on Twitter @KelseaStahler
[Photo Credit: ABC]
More:
'Dancing' Backstage With Louis Van Amstel: Sabrina Was So Happy She Cried
Dancing' Backstage With Louis Van Amstel: The Pressure is On Thanks to Sabrina's 'Iron Will'