'Dancing' Backstage with Louis van Amstel: Ready to Rumba, Worried About Sandy Victims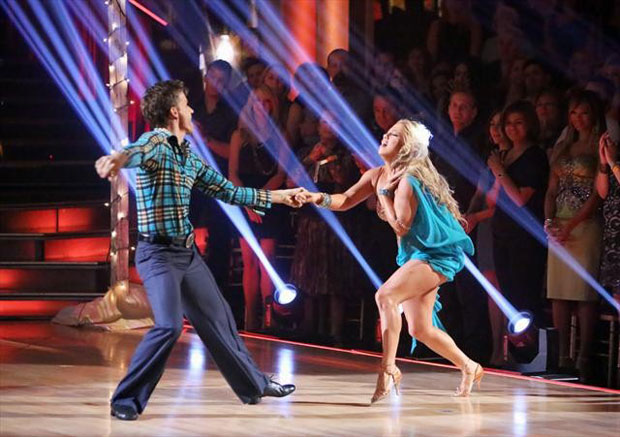 "It was so nice to see that all day yesterday, yes we were excited about dancing and giving it our all, but everyone was on their phones asking friends 'How's it going? Are you safe?'" says pro dancer Louis van Amstel about what it was like behind the scenes of Dancing With the Stars: All-Stars last night. As you may remember, while the dancers were taking the stage, millions of people in the North East were feeling the power of Hurricane Sandy's wrath. But according to van Amstel, the dancer's hearts were with the folks facing one of the most powerful storms to ever hit the North East.
"Yes, the show is tonight and we appreciate all your voitng, but it's about safety. Safety first," says van Amstel. "We're a thousand miles away and we could be like 'Great, we're okay,' but everybody was concerned," he added. Plus, as a former New Yorker, the welfare of storm victims was of great important to van Amstel: "I have a lot of friends there I was personally texting and calling."
But how does one get into the dance when they're in a New York state of mind? Pour your emotions into the dance. "The majority of us had heartfelt dances, which I felt was more appropriate [considering the hurricane]. We had dances that would inspire people … you can have hard times and you will pull through," he says.
Of course, on top of the concern for East Coasters, van Amstel's partner Sabrina Bryan was in an emotional place because this is week five—the same week she was eliminated in her first round of DWTS. "She's been a nervous wreck ever since she woke up today," says van Amstel. "I knew this was the week last time … I'm nervous," he admits.
And that's why this week, the duo laid it all on the line. "It was really hard for [Sabrina] to go to the vulnerable place, but she did," says van Amstel. And it's clear the risk paid off: the duo was rewarded with a perfect 30 score for the night. But of course, it's not over 'till it's over. "It was a beautiful validation to get a perfect score on a hard week … but you never want to assume and you never feel safe," he adds.
Both van Amstel and Bryan will learn their fates tonight on ABC; did you cast your vote for the couple?
Follow Kelsea on Twitter @KelseaStahler
[Photo Credit: ABC]
More:
'Dancing' Backstage With Louis Van Amstel: Sabrina Was So Happy She Cried
'Dancing' Backstage With Louis van Amstel: Is This The Most Emotional 'DWTS' Season Ever?

Kate Upton's Sexiest Viral Videos
(Celebuzz)