'Dancing' Backstage With Louis Van Amstel: Sabrina Bryan Was So Happy She Cried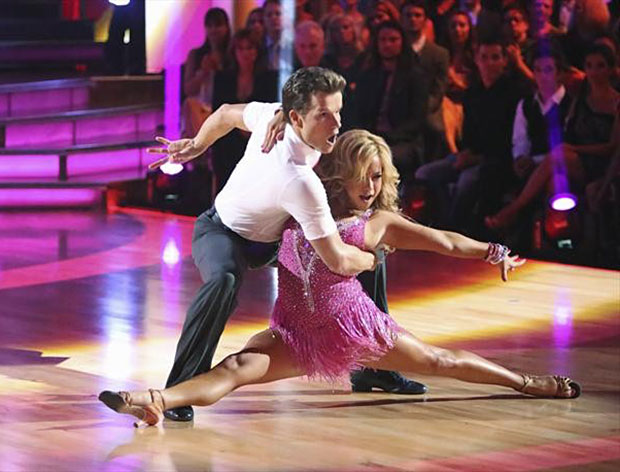 Monday night marked the start of
Dancing With the Stars'
first ever All Star Season, but it was more than just a second chance at the Mirror Ball for one dancer. For
Sabrina Bryan
, it's a chance at redemption after she was wrongfully voted off the show early, in round six of Season 5. Luckily for Hollywood.com readers and Bryan fans, we'll be checking in every week with her dancing guru and season-long partner, professional dancer
Louis Van Amstel
, to get an idea of what's going through the couple's heads and what goes on when the cameras aren't rolling. He took a moment between rehearsals on the
DWTS
set to tell us a little about working with the Fan Favorite.
And last night was a great start for the duo, who burst out of the gate with more fire than we could have even hoped for. "Oh my gosh, am I proud of Sabrina," Amstel says. "I mean, she just soaked it in last night. She's like a little girl, so happy that she was given this opportunity. She even cried just before she started and said, 'Louis, I'm going to cry. I'm so excited and so nervous. I want this so badly.'"
But it wasn't all warm and fuzzy. The judges were fairly critical of the duo, faulting Bryan for being "overenthusiastic." And as supportive as he is, Amstel says he can see where the judges were coming from. "We're taking the judges' comments to heart, and if we make it through, then next week, we're going to be cool, calm, and collected," he says.
However, there were a few other reasons the judges might have seen Bryan and Van Amstel's performance as a little spastic. There was an issue with the audio in the studio – and by issue, we mean the fans were so excited that Bryan and Amstel couldn't even hear their music. "When we started, the audience went absolutely ape-s**t. It was crazy, it was so good," he says. "The downside of that was it was so loud, we couldn't hear the music and we were fast one count and it kind of played a little bit with our heads."
Still, Amstel insists it's all part of the All Star game. The dancers have all been through this before and as such, the judges have very high expectations. "Sabrina said it right: This feels like it's Week 11," he adds. Still, for feeling like Week 11, the dancers have yet to hit competition mode.
"Yes, we are competing against each other, but it really feels more like camaraderie. Everybody supports each other, which to me, is an inspiration in and of itself," says Amstel. But hey, it is a competition and it can't stay like that forever. "And I am sure that when we get to Week 5 and Week 6 there will be more competitive energy, but I don't think anyone was competing against anyone else, just challenging themselves." Well isn't that sweet! They're like one big dancing family.
Hopefully, Sabrina and Louis get to keep their spot on the staircase long enough to see the competition heat up. Did you watch their dance number set to "What Makes You Beautiful?" Will you vote for them to stay? And if you've got questions for Louis, be sure to share them in the comments section below!
Follow Kelsea on Twitter @KelseaStahler
[Photo Credit: Adam Taylor/ABC]
More:
'DWTS' Recap: Who Caught Kirstie Alley In a Lip Lock?
'Dancing With the Stars: All Stars' Premiere: Which Couple Made Your Head Spin?
Maksin Chmerkovskiy Quits 'Dancing With the Stars' After 15 Seasons