'Dancing' Backstage With Louis Van Amstel: The Pressure is On Thanks to Sabrina's 'Iron Will'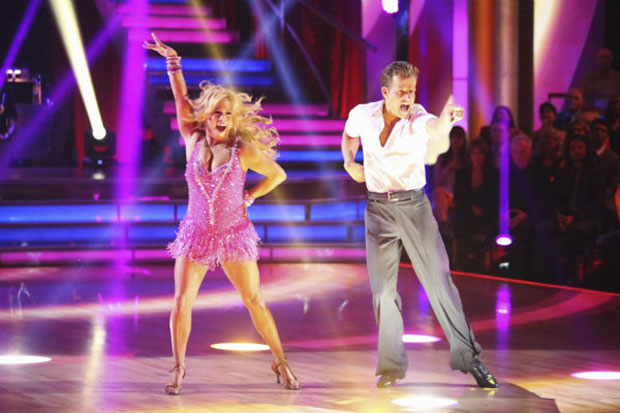 Dancing With The Stars
may have lost a dancer to the weekly ax last night (
Joey Fatone
, you will be missed), but there's still a lot of competition ahead. And one couple continues to hit high note after high note:
Sabrina Bryan
and
Louis Van Amstel
. Our weekly check-in with van Amstel was full of excitement this week, as the coach was coming off of a spotless performance of the quickstep that absolutely floored the judges. But even with all that praise, van Amstel and Bryan are aware of the caveat: This means the pressure is on.
"After a performance like [Monday's], what am I going to do next week?" van Amstel says. "To me, having that pressure, that is was I live for. It requires the best of me. I can't fall asleep. I can't take it easy." But where is all this pressure coming from? Turns out, his straight-A student.
"Sabrina was on fire … But for her to grow that fast, in the matter of a week, it's amazing that someone that talented can still grow so much in such a short amount of time," he adds. And while van Amstel is tough coach, he says Bryan is the one driving them to push past failures and hiccups. She has an "iron will," so to speak.
This week, during rehearsals, van Amstel confesses that he misstepped and dropped Bryan. "I was ready to take it out because I said, 'I don't want this to happen again to you' and she said, 'Louis, no. I'm not going to take it out because I will feel like a loser. These things happen.' So we kept it in. Pressure is good," says the DWTS vet.
But it's not all work and no play. Last week, the duo took a break after rehearsal and spent a bit of time at Disneyland in Anaheim, Calif. "It's such fun to go there. It's kind of embarrassing that as a grown-up couple we have so much acting like little kids, going on the rides. We rode Space Mountain twice," he smiled. Hey, work hard, play hard, folks. Amirite?
And the hard work is back on track as they prepare for iconic week – a week that means a great deal to Bryan. "It's going to be the most dramatic of all … it's the week where we are allowed to be more elaborate with everything, pretty much. So, it's going to be very in your face, iconic dance," teases van Amstel. 
But it's not just going to be fun for us. The dance is actually a favorite for the duo. "We love the dance we chose. It has a lot of sentimental value, especially for Sabrina, in why we chose this dance and why it was so iconic for her," says van Amstel.
Louis and Sabrina take the stage again on Oct. 8. What "iconic" dance do you think they'll take on? And remember, you can send questions for Louis via the comments section below!
Follow Kelsea on Twitter @KelseaStahler
[Photo Credit: ABC]
More:
'Dancing' Backstage With Louis Van Amstel: Sabrina Was So Happy She Cried