'Dancing With The Stars': 13th All-Star Is…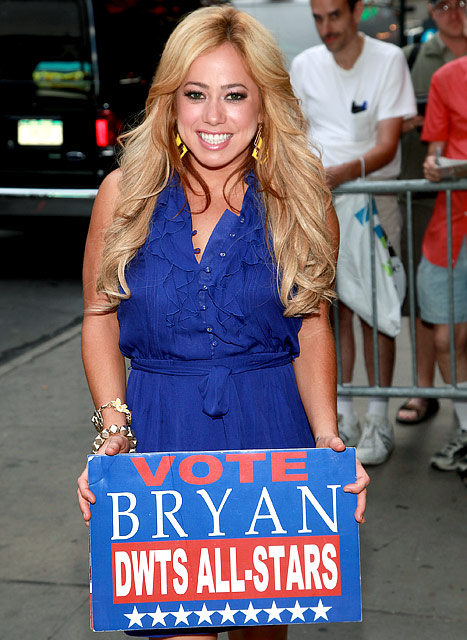 After a month of hardcore campaigning, the votes are in for the second most important election of the year! It was up to America to vote for the final all-star who will dance alongside
Pamela Anderson
,
Bristol Palin
, and many others in the 15th season of
Dancing with The Stars
. And the 13th spot belongs to…
"I'm representing that second chance dream that everyone wishes they could have that second stab at," Bryan tells Hollywood.com exclusively. The former Cheetah Girl has been campaigning like crazy on TV and Twitter to rally up support from her passionate fanbase. The OC native says, "My biggest goal is just to dance for the fans because honestl, I left really early in the season, and the support they put behind me is unbelievable."
Many fans remember Bryan from the fifth season of DWTS when she quickly took the lead in the scoreboard and was considered by many to be the favorite to win. Fans and judges were absolutely shocked when Bryan and her professional dancing partner Mark Ballas were voted off the show in the sixth week.
This season Bryan will enter the ballroom with a new partner: Three-time world dance champion Louis Van Amstel. "Sabrina Bryan deserves to come back for redemption because people forgot to vote. She had a big fan base, but people just thought she was safe … I think she deserves another chance," Van Amstel recently gushed while visiting the Hollywood.com office.
Close friends in real life, Bryan dreamed of having another chance to work with Van Amstel again. "I love Louis! We've been dancing in the DWTS Vegas tour together and he is such an amazing dancer… He's just a really great person," she says.
Although this all-star season is filled with some extremely stiff competition, the former Cheetah Girl says she is more than ready to fight for this year's coveted mirror ball trophy. "I have unfinished business out on that dance floor and I couldn't be happier to get an opportunity to really go out there and hopefully kick some dance booty."
The all-star 15th season of Dancing With the Stars premieres September 24 on ABC.
Are you excited for Sabrina to get a second chance to dance? Who do you think is going to walk away a winner this year? Share your thoughts in the comments below!
Follow Leanne on Twitter @LeanneAguilera
[Photo Credit: ABC]
MORE:
'Dancing With the Stars' Sabrina Bryan Talks Dreams of A Second-Chance Dance — EXCLUSIVE
'Dancing With The Stars' Announces Season 15 All-Stars!
12 People Who Really Should Do 'Dancing with the Stars' (But Probably Never Will)