'Dancing With the Stars: All Stars' Premiere Recap: Lip Service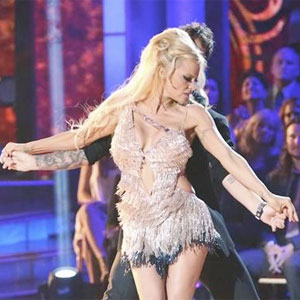 Just to remind everyone, this is the 14th season of Dancing With The Stars. That's right. We've seen 13 different groups of celebrities awkwardly wiggle their hips for a shot at glory, and somehow we're not over it yet. Fan favorites from Sabrina Bryan and Kirstie Alley are back this season to compete for the coveted title (and somehow, Bristol Palin ended up in there too).
This season, DWTS has modified scoring to include half points, and whether it's to earn ratings or to test our math skills, we're not sure. But either way the stakes are higher than they've ever been… but then, how high were they to begin with?
This early in the season, it's hard to tell who's going to dominate, but every participant got off to a strong start. Well, almost every participant. (Remember, Pamela Anderson is competing this year.)
Season 4's Joey Fatone gave us a fake-funny (and actually, kind of creepy) intro video followed by the cha-cha performed to "P.Y.T. (Pretty Young Thing)" with Kym Johnson. Okay, Joey was in *NSYNC – we know he can dance, so no surprises here. His facial expressions, though, were extreme to the point of distracting. The judges applauded his comeback, but Bruno Tonioli cautioned him to watch his technique this season.
Score: 20.5
Shawn Johnson, the youngest competitor this season, performed an upbeat foxtrot with partner Derek Hough. She was, as always, as bright and cheerful as her sunny yellow dress and the flower in her hair (which, by the way, was gigantic). And the former gymnast (and former DWTS champ) showed that her skills don't end on the mat.
Score: 22
Cheetah Girl Sabrina Bryan was viewer's choice for this season after her surprising elimination in Season 5. She performed the cha-cha to "What Makes You Beautiful" with partner Louis Van Amstel. You have to hand it to her: girlfriend is talented. All three judges warned her against overdancing: Len Goodman actually got booed for calling her too "hard-hitting." But based on the audience's overwhelming cheers, this girl isn't going anywhere soon.
Score: 22.5
Season 5 winner Hélio Castroneves danced the foxtrot with partner Chelsie Hightower. It was good, if uneventful, but I'm more impressed by how dapper he looked in that suit. The dance was enjoyable if not earth-shattering, and his spirit shone through in his stage presence and characteristically upbeat demeanor: Len described him as a "joy to watch." Side note: his intro video, filled with embarrassing falls and awkward butt grabs, was definitely the best of the night.
Score: 21.5
Pamela Anderson was, well, Pamela Anderson. Mostly naked and mostly weird, she seemed more concerned with her facial expressions, which rivaled Joey's for general insanity. The distraction may have been intentional, though: Her dance was lackluster and despite her quip to partner Tristan MacManus that "you have to contain me somehow," she seemed pretty well contained on her own.
Score: 17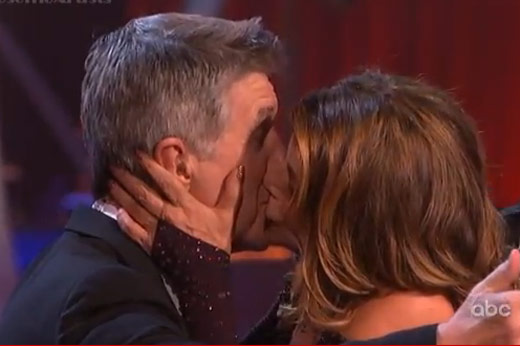 Poor Melissa Rycroft. She can't go anywhere without being identified as "that girl who was dumped on national TV." The former Bachelor finalist and partner Tony Dovolani performed a showy foxtrot, and she was praised for her clean lines and technical skill, although both Bruno and Carrie Ann pointed out a lack of body contact.
Score: 21
Apolo Anton Ohno, Olympic speed skater and Subway spokesman extraordinaire, is back on DWTS to prove he can do more than be in commercials in which he makes "avocado" a 10-syllable word. Partner Karina Smirnoff acknowledges that he's a bit "rusty," and it definitely shows: Len calls it a bronze-medal performance. But their "Party Rock Anthem" cha-cha involved glow bracelets. I repeat, GLOW BRACELETS. How is that not gold-medal worthy?
Score: 22 (and a personal 28.5 for the best costumes of the night)
Bristol Palin, who as Pamela Anderson said "has the whole Tea Party behind her," was supported by mom Sarah's heavily emphasized presence in the audience (a ratings grab, but I'll take it). Although her very presence this season raised eyebrows from viewers, Carrie Ann dubbed her "most improved," and her cha-cha showed off a confidence we haven't seen since… ever. An underdog story? Let's not get our hopes up – it's still the first episode, people.
Score: 19
Season 2 winner Drew Lachey has been out of the DWTS game for a while, and things have changed since his reign. His foxtrot was lackluster and the judges noted his rigidity, but the added drama of a boy-band rivalry (thanks to his brother Nick, who was in the audience) may keep him around for a few weeks longer.
Score: 21.5
Like Lachey, actress Kelly Monaco has been out of the loop for a long time since winning the show's first season. That didn't stop her, though: The pair's cha-cha was one of the strongest dances of the evening, the sexual tension wasn't awkward (a rarity on this show), and the judges praised her technical skill. "You weren't this good in Season 1!" Len chided. Ouch.
Score: 21.5
Oh, Kirstie Alley, how we love you. Just when the show starts to drag, you come out and do something hilariously weird to keep everyone on their toes. I'm not talking about the dance – her foxtrot with partner Maksim Chmerkovskiy was great if not exceptional, but the real show started once she finished twirling: she threw off the whole crowd by locking lips with Tom Bergeron. And yes, it was just as weird as you'd imagine.
Score: 19, and a perfect 30 for the aftershow.
The night closed out with former football pro Emmitt Smith, whose cha-cha the judges pronounced the best performance of the evening. He and partner Cheryl Burke have insane chemistry, and they secured a strong lead going into the competition. Will they keep it up in the coming weeks? It's hard to say but with hip movements like those, it doesn't look like Smith is heading home anytime soon.
Score: 24.5
Did you watch the all-stars premiere? Will this season be better than ever? And do we live in a universe in which a Palin could actually (gasp!) win?
[Image Credit: ABC]
More:
Dancing With the Stars: All Stars Premiere: Which Couple Made Your Head Spin?
Maksim Chmerkovskiy Is Quitting Dancing With the Stars After 15 Seasons
Let's Judge the Dancing With the Stars: All Stars Couples Pictures