'Dancing With the Stars: All-Stars' Recap: Bye Bye Bye!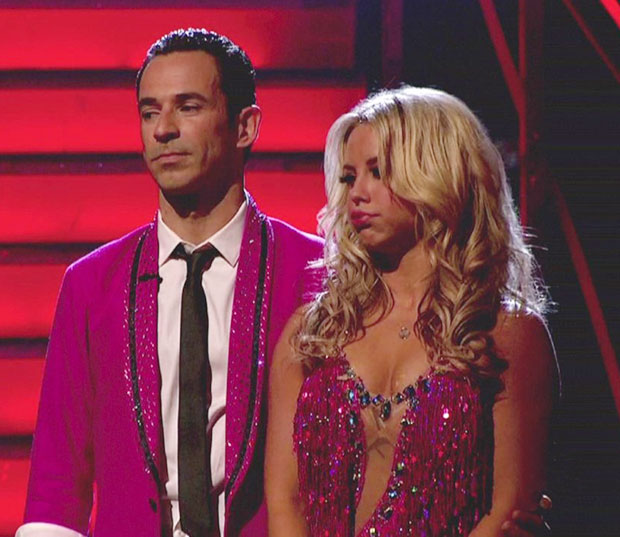 It's a sad day for myself circa 1999: This week, Joey Fatone got the boot from DWTS, meaning every writer in the country now has to try to think of an *NSYNC reference that isn't as generic and overused as most of Grey's Anatomy's Season 8 plotlines.
Let's spend some time talking about this hour-long "defining dances" special. First of all, ABC, do you need to drag this show out any longer than it already takes to sit through the elimination episode? And secondly, do we really need anyone else to pretend that any of Bristol Palin's dances were defining in a way that doesn't also translate as "please excuse me while I weep silently for the state of America"?
Okay, but putting that aside, the first hour of the show did include some great highlights from previous seasons, like that time Kelly Monaco pulled a Janet Jackson in Season 1 and still managed to own it on the dance floor. Ah, the memories.
But let's be honest. No one really cares about dances we've already seen. We want to see drama! Suffering! Pain! Shawn Johnson and Apolo Anton Ohno in an Olympic death battle!
No? Not that last one? Okay, moving on.
We asked for drama this week and boy, did we get it. At least, that's what the legions of Twitter fans of the show would like you to think: During and after the show, the social media site was exploding with chatter about tonight's eliminations — or conspicuous lack thereof. You see, the bottom three contestants were Joey Fatone, Helio Castroneves, and Bristol Palin — but our favorite Redneck Woman was soon cleared from the red zone.
And in response, Twitter exploded. Dear readers, out of respect for your innocent ears (eyes?), I won't repeat what was said about Bristol Palin in 140 characters or less, suffice it to say that a lot of people think she held onto her spot for political reasons.
I'm calling bull. News flash, America: Bristol Palin is safe because watching her dance is a natural self-esteem booster. Think about it: I have roughly the rhythmic ability of a banana slug, and I still finish every show thinking I'd have a fighting chance if Bristol and I ever went head-to-head Step Up style.
Wait… I think I just solved all of America's partisan problems. My fellow Americans: This DWTS election year, join me in restoring our nation's confidence. Vote (Bristol) Palin 2012!
But really, let's move on. Joey Fatone was the real loser this week, sent packing after a lackluster jive Monday night. In all seriousness, is anyone that sad to see him go? He wasn't one of the big draws of the cast, and both of his dances were marred by technical flaws and general misuse of glitter. Plus, let's be honest, that Charlie Chaplin costume gave me actual nightmares. Oh well, Joey. Better luck next time!
The real bombshell of the night, though, came right at the end: Next week will be a (drumroll please) DOUBLE ELIMINATION ROUND! Ooooh, good! Finally some real excitement. Who'll be on thin ice next week? Only time, and Twitter, will tell.
[Image Credit: ABC]