'Dancing With the Stars: All-Stars' Recap: Double (Elimination) Trouble!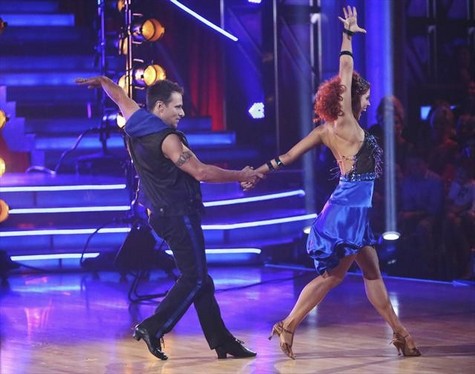 And there you have it, folks: This week, we bid adieu to not one, but two former DWTS champs: guyliner enthusiast Drew Lachey and this season's second-coolest-guy-with-an-accent, Helio Castroneves. And really, is anyone surprised? I have a sneaking suspicion Bristol would have been out had it not been for Helio's little stumble in this week's routine, when he almost sent Chelsie flying.
True to their personalities, Drew and Helio handled their eliminations with different levels of grace, by which I mean that Helio thanked the audience and the judges, expressed his love for the show, and exited the stage with dignity (and his nauseatingly adorable family). And Drew? Well, Drew whined, complaining that the judges just don't get him. Again I ask, are you surprised?
The real mystery of this week's elimination, though, is how our favorite Cheetah Girl Sabrina Bryan landed in jeopardy. Heaven knows I love a little drama, but seriously, I don't think she ever fully recovered from being sent home in Season 5. I was sort of afraid she'd explode onstage tonight when Tom gave her the bad news.
But luckily she'll live to see another week, as will Kirstie Alley, who was also briefly at risk of elimination. And so, inexplicably, will Bristol Palin, whose consistently low-scoring routines somehow make us all love her more with each passing moment.
The main excitement in the otherwise lackluster elimination episode was the announcement of next week's challenge. The stars all selected dance styles for each other, and the real tragedy of this elimination is that we won't get to see Helio perform the Broadway routine chosen for him.
Next week's lineup is as follows:
Gilles and Peta will perform a Bollywood dance, and I can't wait to see how Peta uses this as an excuse to basically be naked onstage.
Sabrina and Louis will do the disco, and if I don't see a pair of go-go boots and a lot of hairspray, I'll probably lose my faith in humanity.
Emmitt and Cheryl will be doing a bolero, because let's face it: Emmitt is like the male version of Shakira. His hips don't lie. I think there's a big audience contingent of moms voting for him exclusively for that reason.
Apolo and Karina will perform a hip-hop dance. I… um… er… is it just me, or is it hard to picture Apolo Anton Ohno doing a hip-hop routine without feeling vaguely traumatized?
Melissa and Tony will do the Jitterbug, which, frankly, I can't discern from the jive she performed in Week 2. But I guess it doesn't matter what dance she performs: She's so talented, she can basically do no wrong.
Kelly and Val will do a contemporary style dance. I can only hope this is like that time I took a contemporary class at the tender age of 13 and thought twirling ribbons and pastel colors made me look graceful. (They didn't.)
Kirstie and Maks will do the Charleston. ABC, do you hate me? Honestly, if I have to see Kirstie in that flapper costume again, I might punch my television set. If she shimmies toward Len and Bruno again, I might actually cry. I still get nightmares sometimes.
Bristol and Mark will perform a rock & roll dance. Does anyone know what this means? All I can imagine is the duo furiously head-banging to heavy metal. That's probably not what will happen, but a girl can dream, can't she?
And that's that for this week's DWTS elimination! Next week, Paula Abdul will be the guest judge, and you know what that means: Free compliments for everybody! Even you, Bristol.
[Image Credit: ABC]
More:
Dancing With the Stars: All-Stars And the Eliminated Contestants Are…
Dancing With the Stars: All-Stars Recap: Peter Pan, Living Statues, and a Donkey
Melissa Rycroft Shares Her 'DWTS' 'Breakdown' and an Emotional Decision