'Dancing With the Stars: All-Stars' Recap: I Just Sunk My Own Battleship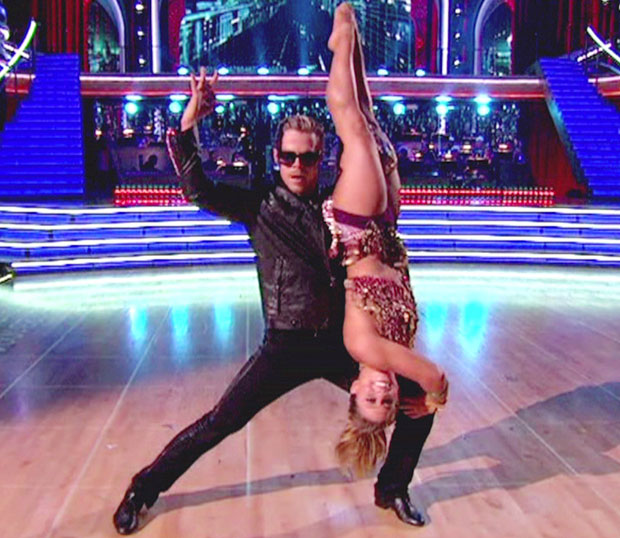 This is shaping up to be a rough week on Dancing With the Stars, guys. Everyone seems stressed and worn out – even Tom Bergeron, who was so hopped up on cold medicine he actually made jokes about being hopped up on cold medicine. Some of the strongest couples in the competition – Kelly and Val, I'm looking at you – struggled this week, and the pre-dance clips showcased sleepy stars fighting to stay awake for one more practice run. Between theme dances and Michael Jackson hits, watching tonight's episode felt almost as tiring as actually dancing must have been. Almost.
Melissa & Tony – Caveman hustle
Cavemen are funny. This is a scientific fact. They grunt. They scream at fire. They beat things with clubs. That's hilarious. Sadly, Melissa and Tony's performance was anything but funny. It felt like their talent took a leap back into the Stone Age with their hair and costumes. It was painful. Let's not even talk about the CGI dinosaur in the intro. I almost cried.
Carrie Ann: 9
Len: 9.5
Bruno: 9
Shawn & Derek – Night Rider bhangra
At this point, it shouldn't be surprising that these two got a perfect score. More surprising is the fact that, in a season of truly atrocious costume choices, their jackets were unbelievably cool. Seriously, I don't think the wardrobe department has ever made a choice quite as good as those light-up outfits. I have no idea how accurate or traditional their bhangra was but I think those jackets are more than enough to make up for it.
Carrie Ann: 10
Len: 10
Bruno: 10
Apolo & Karina – Big Top jazz
There was just so much wrong with this routine I don't even know where to begin. From the hybrid A Clockwork Orange-meets-Cirque du Soleil costumes (for the record, I thought of that before Bruno did… copycat) to the jerky throws and disorganized routine, it didn't look like Apolo and Karina put in the 45 hours of effort they claimed. And I wasn't even distracted by his hair this time.
Carrie Ann: 8.5
Len: 9
Bruno: 9.5
Emmitt & Cheryl – Espionage lindy hop
I have to be honest – last week, I couldn't hide my frustration that Emmitt made it through to the semis. This week, I can't say I'm 100 percent on board with his continued presence in the competition, but at least he showcased some new skills this time around. Seriously – he barely even shook his hips. If he has to stay in (and I think he does), I'm happy he's trying new things.
Carrie Ann: 9
Len: 9
Bruno: 9
Kelly & Val – Surfer flamenco
Ugh, honestly. By Week 9, every time Kelly and Val even approach the stage I feel vaguely nauseous. I'm starting to suspect it's because I'm jealous – Val definitely gets hotter every week. Sweaty, frustrated rehearsal Val? Good. Shirtless flamenco Val? Better. Speedo Val? I can't imagine anything better. Sadly, their scores mean they'll probably be heading home this week – at least Val seems to think so – but we can only hope he'll be back for more hunky seasons.
Carrie Ann: 8
Len: 9
Bruno: 8.5
Melissa & Tony: Argentine tango to "Dirty Diana"
Poor Melissa. She's the only celeb left in the competition who hasn't won previously. You have to root for her: she's barely an underdog, but she's never gotten to feel victory. And with her talent and grace, it's hard to imagine she won't end up in the finals, at least. Plus, if there was a best-dressed award for this season, it'd go to her. I guess that's not saying much, but it still counts for something, right?
Carrie Ann: 10
Len: 10
Bruno: 10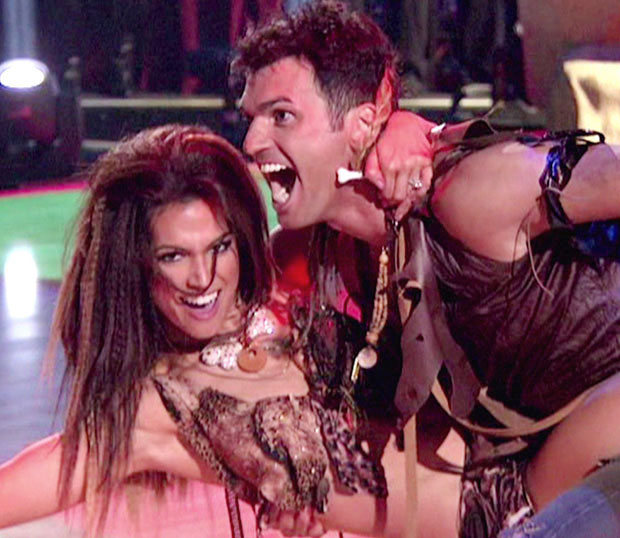 Shawn & Derek: Argentine tango to "Bad"
For America's Sweetheart, Shawn was pretty… naked… tonight. Every time the camera cut to her mom in the audience, I felt a little pang of pity for what she must be thinking. Beyond that, though, no real shockers here: They rocked it, as usual, although Carrie Ann almost got in a fistfight with Len and Bruno over a perceived lack of "passion" in the routine. Ugh, sorry Carrie Ann, not everyone can be Kelly and Val. Excuse me, I need to go take some Tums…
Carrie Ann: 9
Len: 10
Bruno: 10
Apolo & Karina: Rumba to "Man in the Mirror"
This was the best pre-dance video I think I've seen all season. The music! The blurry camera work! The montages of Apolo frowning in corners! It felt like a music video circa 1995, without the music. It was pure Apolo, and pure magic. The dance? It was exactly what you'd imagine a dance set to "Man in the Mirror" to be: a little corny, a little dramatic, with extensive use of an actual mirror. Will the fans eat it up? Without a doubt.
Carrie Ann: 10
Len: 10
Bruno: 10
Emmitt & Cheryl: Tango to "Leave Me Alone"
Wait, I'm sorry – did anyone else see Emmitt doing yoga in his rehearsal video? Is that a thing that he does? Because if so, my respect for him just went up, like, 4,000 percent. And really, his dance commanded respect, too: He looked terrified, but also really in his element – I've never seen that kind of focus from him before. I still miss Gilles, but I guess Emmitt can stay.
Carrie Ann: 9
Len: 9
Bruno: 9
Kelly & Val: Rumba to "Can't Stop Loving You"
Ew, Tom. "Will this night be a climactic event?" Really?! The last thing we need after a full season of excruciating sexual tension is Tom making sick jokes about it. Kelly says she has "problems with intimacy" – really? You have intimacy problems with Val? Please, sister. I believe that about as much as I believe Bruno and Len actually come up with their own one-liners.
Carrie Ann: 9.5
Len: 9.5
Bruno: 9.5
The end is near – finals are next week. That means one thing: a double elimination tomorrow. Who's going home? Is anyone safe? Will Kelly and Val finally do it? We'll find out tomorrow. Except that last one – I think we already know the answer to that question.
[Image Credit: WENN (2)]
More:
Dancing With the Stars Recap: Len's Fightin' Words
Dancing With the Stars Recap: Three's a Crowd
Dancing With the Stars Recap: Indecision 2012

Miley Cyrus Debuts Even Shorter Shaved Hairdo (PHOTOS)
(Celebuzz)

Mila Kunis and Ashton Kutcher Kiss During Romantic Date Night in Rome (PHOTOS)
(Celebuzz)