'Dancing With the Stars: All-Stars' Recap: Indecision 2012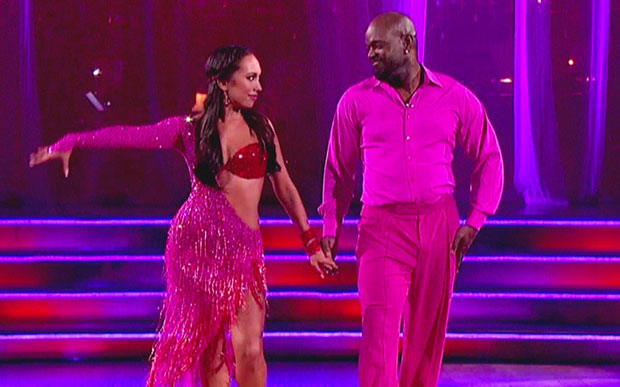 Ah, election week. In honor of our nation's third-finest tradition after summer barbeques and Thanksgiving football, the DWTS melodrama is condensed into one night this week so we can, like, elect a president or something tomorrow.
But don't panic, dear viewers – despite the lack of eliminations, there was still plenty of drama to go around on tonight's episode, the chief issue being Derek Hough's ongoing recovery from a bulging disc in his neck. He opted out of tonight's show, and Shawn danced with Mark Ballas, aka Bristol Palin's better half. As much as I will always love Derek's antics, it was nice to see Mark paired with a celeb who possessed actual rhythmic ability for once. Sorry I'm not sorry, Bristol.
Apolo & Karina
Was it just me or did this whole dance look like Apolo was just throwing around a Karina-sized rag doll? Seriously. His whole cha-cha routine consisted of him swinging Karina around and occasionally swiveling his hips. And then he took off his shirt and I thought the arena was going to explode. I'm not sure whether to be horrified or awestruck.
Carrie Ann: 9
Len: 9
Bruno: 9
Emmitt & Cheryl
So in the last few weeks Emmitt and Cheryl have started doing this really creepy thing where they stare into each other's eyes at the beginning of their performances. I think the feeling they want to invoke is passion, or love, or romance, or something else equally sappy. But in practice, it just comes across as vaguely creepy and disconcerting, and that's not helped by his two-tone pink ensemble. All in all, it's the stuff of (very bizarre) nightmares.
Carrie Ann: 8.5
Len: 9.5
Bruno: 9.5
Kirstie & Maks
So here's the thing. I can't dance. I'm very aware of this fact and would therefore never willingly enter into a dancing competition. Fortunately, I'm also not a celebrity. But if I was, I would still not enter into a dancing competition. Regrettably, Kirstie Alley did not follow the same train of thought, and somehow, she's still on the show. Really, America? You voted off Sabrina Bryan but Kirstie's still here? I'll sum up her dance with a quote from Carrie Ann: "Your heart is so pure and so wonderful but…that dance…" Yep. Even Carrie Ann has no words to cope with the pain.
Carrie Ann: 8
Len: 8
Bruno: 8
Kelly & Val
HUGE NEWS! Kelly and Val actually made it through an entire performance without making out all over the dance floor. To be honest though, it took me a second to realize the proposal scene at the end was, in fact, just for show. I'm holding out for something real happening between them before the end of the season, though. They're just so… something. Cute isn't the right word. Nauseating?
Carrie Ann: 9
Len: 9
Bruno: 9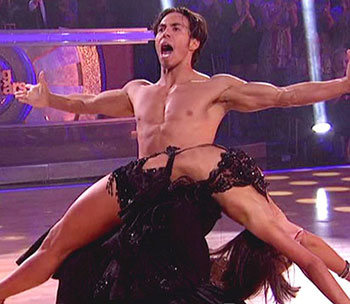 Melissa & Tony
Melissa's dance was good. But by this point in the competition, everyone can count on her to bring her A-game every week, so that wasn't surprising. What was surprising was her music choice: a bizarre ballroom version of Ke$ha's "Die Young." I mean, the covers are always a little awkward, but hearing Ke$ha's blackout-drunk anthem performed as a tango ballad is probably in the top five for "Weirdest Things I've Heard on DWTS."
Carrie Ann: 10
Len: 9.5
Bruno: 9.5
Shawn & Mark (We miss you, Derek!)
Poor Derek – he missed the best week ever. Between the Bon Jovi tango, her crazy plunging neckline, and the actual fire on the dance floor, this was probably Shawn's most epic week this season, earning perfect scores across the board – although I think her stunning hair and makeup should have earned her an extra point or two. Seriously, Shawn, can I borrow your makeup artist?
Carrie Ann: 10
Len: 10
Bruno: 10
Gilles & Peta
Looks like today will go down in DWTS history: in addition to the hilarious Ke$ha cover, Shawn's epic pyrotechnics, and a shirtless Apolo Anton Ohno, today will be remembered as the day Peta almost wore clothes. Of course, the dress was nude and glittery so it doesn't really count as clothes, but it comes close, right? And no performance would be complete without her ripping Gilles' shirt off. So in that sense, tonight was a roaring success.
Carrie Ann: 9.5
Len: 9.5
Bruno: 9.5
Group dance: Swing Elimination
Things got a little Rydell High up in here during the swing dance marathon – each pair was eliminated, one by one, until only the best remained. The teams were awarded points based on their order of elimination. Kirstie and Maks were (SHOCKER!) eliminated first, earning four points. Gilles and Peta were close behind, followed by Apolo and Karina; Emmitt and Cheryl; Shawn and Mark; and Kelly and Val. Melissa and Tony, unsurprisingly, took home the win with 10 points. Hand jive not included.
What will happen next week? And is Derek out for the season? Stay tuned for next week, and, oh yeah, vote!
[Image Credit: ABC]
More:
Dancing With the Stars: All-Stars Elimination: Imma Let You Finish But…
DWTS: And the Eliminated All-Star Is…
Dancing Backstage With Louis van Amstel: Ready to Rumba, Worried About Sandy Victims

Channing Tatum to Be Named Sexiest Man Alive by 'People' (REPORT)
(Celebuzz)