'Dancing With The Stars: All-Stars' Recap: McKayla is Still Not Impressed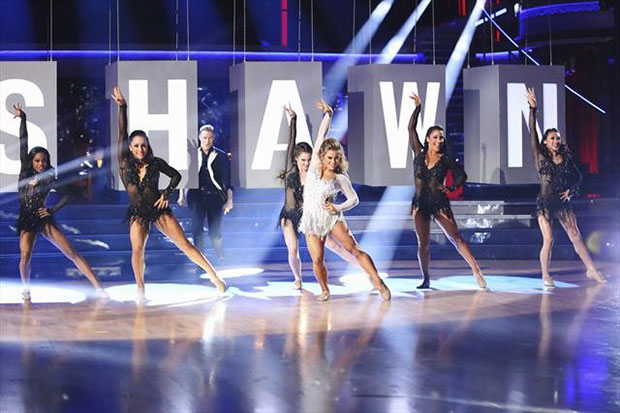 Dance 1: Repeat
Kelly & Val
For their repeat dance, Kelly and Val reprised their paso doble from Week 3. Was it sensual? Yes. Was it spicy? Yep. Did they make out? Ugh, I wish. All we got was a tiny little nose peck. The lovebirds did get lucky, though – despite missing one grab (which was probably the longest they've ever gone without touching each other), they got two perfect 10's, their first of the season. Which means they totally made out backstage.
Carrie Ann: 9.5
Len: 10 Bruno: 10
Melissa & Tony
Melissa and Tony also went back to Week 3, dancing their tried-and-true samba. I've never seen that kind of fierceness in Tony before – his rehearsal video clip showed a kind of aggression I never expected from the always-smiling Tony. They landed a perfect score, putting them in a great position to win their first Mirror Ball Trophy. Please tell me I'm not the only one rooting for the underdogs here.
Carrie Ann: 10
Len: 10 Bruno: 10
Shawn & Derek
America's Sweethearts brought back their controversial Week 3 quickstep, which got them in trouble for not following the DWTS rules – they broke holds, did banned lifts, and generally went YOLO all over the place. Cool as it was – and trust me, the audience ate it up – they got tons of points docked last time and again today. Will it hurt them? Doubtful. It'll take a lot more than breaking some rules to ruin their chances.
Carrie Ann: 9
Len: 8.5 Bruno: 9.5
Dance 2: Freestyle
Kelly & Val
Ugh, did anyone else expect Val to just propose to Kelly at the end of this dance? Let's look at the number of Horrible Rom-Com Clichés utilized in this performance: 1) Aerial dance. 2) Dirty Dancing lift. 3) Violin solo. 4) Gospel choir. 5) Backup dancers. 6) Flowy dress. 7) That "Time Of My Life" song. Ugh. I really just want to puke everywhere…and I loved it.
Carrie Ann: 10
Len: 9.5 Bruno: 10
Melissa & Tony
The underdogs channeled Cirque Du Soleil with their final freestyle. Like, seriously? Backup dancers hanging around the stage in cubes? And those lifts were straight-up Dirty Dancing status – for the second time tonight.
Carrie Ann: 10
Len: 10 Bruno: 10
Shawn & Derek
Because there weren't enough sweethearts in the America's Sweetheart duo, Shawn and Derek brought everyone's favorite championship gymnasts into the mix tonight. Yep. The Fierce Five – McKayla's unimpressed look and all – made an appearance (JORDYN WIEBER I LOVE YOU). Ugh. It was perfect. So, so perfect, you guys. Would it have been great without the other girls? Probably. Would it have been as heartwarming? Not even a little bit.
Carrie Ann: 10
Len: 10 Bruno: 10
[Photo Credit: Adam Taylor/ABC]
More:
'Dancing With the Stars' Recap: Apolo and Emmitt Bid Farewell
'Dancing With the Stars' Recap: The Final 5

Chris Brown Makes NSFW Poop-Related Insults, Deletes Twitter Account

'Liz & Dick' Is Bad in the Worst Possible Way: Review