'Dancing With the Stars: All-Stars' Recap: Not For the Faint of Heart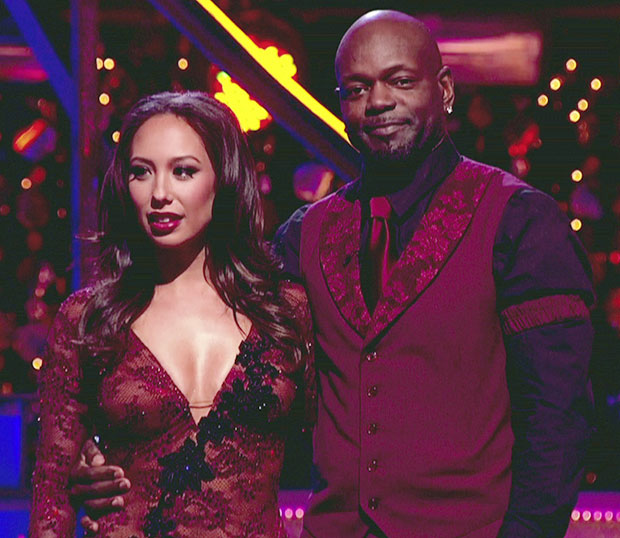 I never thought I'd actually say this: I felt butterflies in my stomach when tonight's episode started. We're so close to the end! After everything that's happened this season, only three couples made it through tonight's double elimination to compete in next Monday's finals.
Shawn and Derek were the first couple to make it safely through to the finals. In other news, the earth revolves around the sun and Taylor Swift is bad at relationships.
After an excruciating delay (albeit one featuring insanely talented New Zealand dancer Parris Goebel), Melissa and Tony were pitted against Apolo and Karina for the first elimination of the night. Ohmygod my nerves. In a tragic – and, honestly kind of surprising — turn, given his vocal fan base, Apolo got the boot, carrying Melissa into the finals. Will this season turn into a true underdog story? I guess we'll have to wait until next week to find out.
PHOTOS: The Most Hilarious 'DWTS' Dance Faces Ever
Typically, I glaze over the guest dances that get performed each week – let's be honest, they're pretty much just time fillers that are more annoying than interesting. But this week Derek choreographed a modern routine and holy live-action slow motion, Batman! Between the splash pool, the aforementioned slow-mo, the strobe lights and the insane choreography, this was definitely the best dance of the season. Although I'm a little concerned: didn't Derek, like, need to practice with his actual partner? I guess that's not as important when you're a pro.
In the show's final act, Kelly and Val went head to head with Emmitt and Cheryl for the last spot in the finale. And with that, all became right with the world. Everyone's favorite lovers made it through to next week, and Emmitt "Hips Don't Lie" Smith got the axe. Tom did make a good point in saying the show has lost a lot of its charisma – no one ever accused Kelly of being interesting – but with Melissa, Kelly and Shawn competing for the Mirror Ball Trophy next week, it looks like it'll be almost like a real talent competition! Or at least, it'll be as close as we'll get to one on Dancing With the Stars. Who's going to take home the trophy? Who'll be left picking up the pieces of their faded career? Only six days to go until we find out!
[Image Credit: WENN]
More:
Dancing With the Stars Recap: I Just Sunk My Own Battleship
Dancing With the Stars Recap: Len's Fightin' Words
Dancing With the Stars Recap: Three's a Crowd

Prince William Shares Personal Snapshots of Royal Air Force Life (PHOTOS)
(Celebuzz)