'Dancing With the Stars: All-Stars' Recap: Rydell High's Accidental 60th Reunion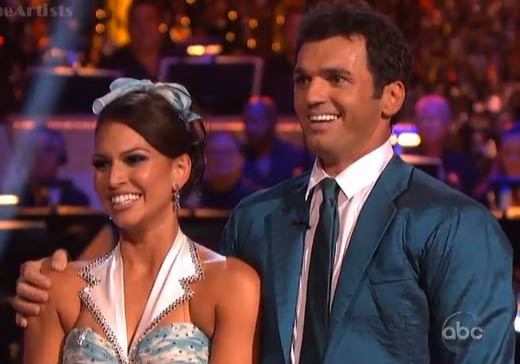 Well, kids, Pamela Anderson is gone, leaving behind a trail of bronzing gel, false eyelashes, and hairspray residue in her wake. This week, the competition heated up about as unevenly as the leftover pasta I had for dinner. The night was filled with glitter, innuendo, and a big-band cover of Radiohead's "Creep." Yeah, that happened. Sufficiently confused? Read on for more weirdness.
Melissa Rycroft & Tony Dovolani
Did I die and go to the Rydell High dance-off? Based on Melissa and Tony's dance, I'm pretty sure that's what happened. Melissa is clearly the best dancer at St. Bernadette's. The only thing missing was the hand jive.
Carrie Ann: 8
Len: 8
Bruno: 7.5
Bristol Palin & Mark Ballas
"This song's like… me," says Bristol Palin of Gretchen Wilson's "Redneck Woman," the song she danced to tonight. In case there was any doubt before, I can now confirm: Bristol Palin is the Honey Boo Boo of this competition.
Carrie Ann: 6
Len: 6
Bruno: 6
Helio Castroneves & Chelsie Hightower
Bruno referred to Helio Castroneves as "a delicious treat," but I'm pretty sure he was talking about Helio's pink suit jacket. Enough about him, though — let's talk about his daughter, who got more screen time than any actual dancer in this competition. And for good reason: She's the cutest toddler in the world. And she cheered her dad on from the sidelines. Awww.
Carrie Ann: 8
Len: 7.5
Bruno: 7.5
Apolo Anton Ohno & Karina Smirnoff
Last week, Carrie Ann told Apolo he got "3000 times sexier"… well, that was before she saw his fedora. It took all of his sexy points from last week and threw them right out the window. Apolo, you have the coolest male hair on DWTS this season. Don't cover it up.
Carrie Ann: 8.5
Len: 8
Bruno: 8
Sabrina Bryan & Louis Van Amstel
When Bruno calls you Ginger Rogers, you know you're good. Sabrina Bryan is a rockstar – and an adorable one. When Carrie Ann told her how great she was, she literally jumped up and down like an overexcited. Carrie Ann: 9
Len: 8.5
Bruno: 8.5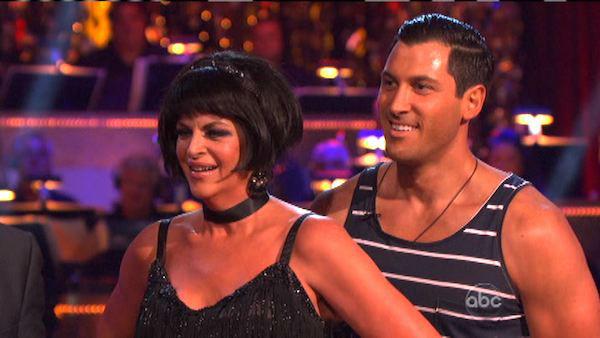 Kirstie Alley & Maks Chmerkovskiy
Ugh, Kirstie. During rehearsals, she had to wear rubber bands tied around her knees to train her to keep her legs together, a move she referred to as "Fifty Shades of Maks." Ew. Her costume dragged out the torture even more: I get that her wig is meant to look like a classy '20s flapper, but the final result was vaguely reminiscent of a tan, slightly tipsy Marilyn Manson at a Great Depression-themed party.
Carrie Ann: 7
Len: 7
Bruno: 7
Emmitt Smith & Cheryl Burke
Emmitt Smith says he's been hit over 4,000 times, which evidently made his head crooked. I guess last week we were all too distracted by the hip rolls. More importantly, though, he wore a leopard print bowtie and cummerbund combo, so I don't understand why they didn't just give him the Mirror Ball trophy and send everyone else packing.
Carrie Ann: 7.5
Len: 7.5
Bruno: 7.5
Drew Lachey & Anna Trebunskaya
Drew and Anna snag the award for worst costume of the night. First of all, Anna: Selena called. She wants her sequined bustier back. Like, now. And Drew, lose the eyeliner. You're not Johnny Depp circa 2005 (But ooh, can Johnny Depp be on DWTS? Who do I need to pay to make that happen?).
Carrie Ann: 7.5
Len: 7.5
Bruno: 7.5
Joey Fatone & Kym Johnson
I have to be completely honest: I was so distracted by Joey's music — a big-band version of Radiohead's "Creep" — that I barely watched his dance. I guess it was appropriate, though — his Charlie Chaplin impression was, well, creepy. Based on the last two performances, I can only imagine (by which I mean dread) what's to come next time.
Carrie Ann: 7.5
Len: 7.5
Bruno: 7.5
Shawn Johnson & Derek Hough
Meanwhile, back at Rydell High, my Grease metaphor continues as Shawn Johnson performs a dance that's as wholesome as everyone's favorite Hopelessly Devoted leading lady. Also, she cartwheeled down the stairs. Did you hear she was once in the Olympics?!
Carrie Ann: 8.5
Len: 8
Bruno: 7.5
Kelly Monaco & Valentin Chmerkovskiy
Kelly Monaco apparently missed out on her senior prom and wanted to relive the moment here. Too bad she didn't leave a glass slipper behind on the steps: She was acting like Val was her real-life Prince Charming. I'm just impressed she didn't trip over all that tulle.
Carrie Ann: 7.5
Len: 7
Bruno: 7.5
Gilles Marini & Peta Murgatroyd
The funny thing about Gilles' hamstring injury is that I once had the same issue. Unfortunately, I didn't get mine from dancing in a nationally televised competition, so I guess he wins this one. He dedicated his performance to his father, who passed away 17 years ago tonight, and his dad is definitely smiling down on him: once again, the last dance of the night was hands-down the best. Even if he did forget to wear his undershirt.
Carrie Ann: 8.5
Len: 8.5
Bruno: 8.5
Who's heading home tonight?