'Dancing With the Stars: All-Stars' Recap: Shut the Front Door!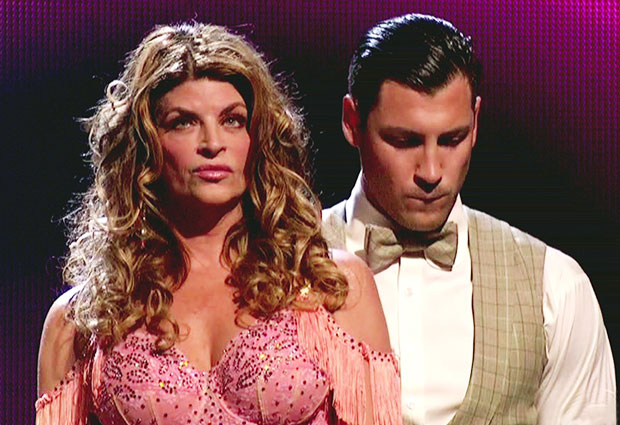 Well kids, it's elimination night again. Regrettably (or perhaps mercifully?), this week's results episode of Dancing With the Stars: All-Stars was cut in half thanks to the presidential debate, meaning we had to endure only a single hour of overly dramatic narration and a rehashing of events I'd totally forgotten because it's been a full 24 hours since the celebs performed.
The biggest standout tonight wasn't the eventual elimination of Bristol Palin and her partner, Mark Ballas. That's been coming for weeks, and although it's sad to see Bristol head home as soon as she (literally) found her footing on the dance floor, she just didn't have a real chance with the other all-stars left in the competition.
No, my real concern here was the insane sexual tension between Kelly Monaco and Val Chmerkovskiy. I've noticed it all season – and I know I'm not the only one – but I always attributed it to a friendly, jokey relationship based on the fact that they have to essentially toss each other around for weeks on end. But this week, things started to get weird. First, we see them basically making out onstage at the end of their performance last night. Then this week, the camera zooms in on Val kissing Kelly's chest. The pair was basically canoodling like a couple of middle school students out for their very first unsupervised movie theater date. More power to you Kelly, I guess, but really. Get a room!
The greatest part of the entire episode, though happened in the first few minutes, when the cameras zoomed in on Emmitt shouting "Shut the front door!" during Shawn and Derek's jaw-dropping performance. It was cute and candid – the exact opposite of what I've come to expect from this show, and a refreshingly real moment.
Let's take a moment to talk about Bristol's elimination, though. I know, I know – I make fun of the poor girl every week, and she's the butt of every joke for reviewers across the country, but really. You have to give her credit for going out onto the dance floor every week with her head held high and her cowboy boots on tight. She may not be the most talented dancer in the world, and her on-screen awkwardness may make the cast of The Big Bang Theory look confident and cool, but she deserves credit for sticking it out. You go, Bristol! Just please take a break from the television world for a while. Like… maybe forever?
Coming up next week, the dancers perform individual "guilty pleasure" routines to their most embarrassingly beloved tunes, as well as team freestyles. Two hours of "Gagnam Style," "Call Me Maybe," and…uh… "Copacabana?" Count me in!
[Photo Credit: ABC]
More:
Dancing With the Stars: All-Stars: The Eliminated Celebrity Is…
Dancing With the Stars: All-Stars Recap: Tears and Cheers
Kelly Monaco on DWTS: 'I Was at the Top of the Leaderboard and Didn't Feel Safe'
From Our Partners:

Kristen Stewart and Robert Pattinson Cuddle at Chateau Marmont: 15 of the 'Twilight' Couple's Most Romantic Date Nights — GALLERY
(Celebuzz)

Reese Witherspoon Debuts Post-Baby Figure Two Weeks After Giving Birth — PHOTOS
(Celebuzz)