'Dancing With The Stars' Announces Season 15 All-Stars!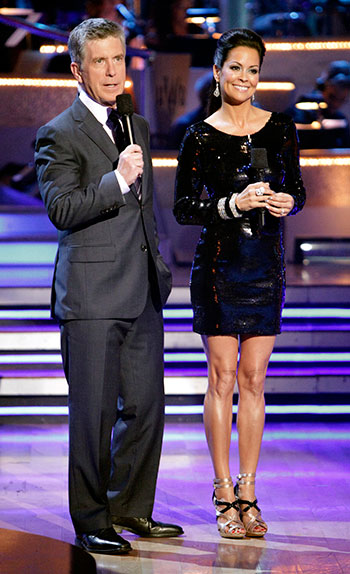 At ABC's TCA panel in Los Angeles this morning, the team behind Dancing With The Stars played a short yet sensational clip for the press announcing the all-star cast for the upcoming fall season. After five truly frantic minutes we've nabbed the list of the 13 DWTS alumni who will return to the spotlight and vie for the coveted mirror ball trophy! So who made the cut?
Pamela Anderson (Season 10, withdrew after 4th round)
Shawn Johnson (Season 8, Champion)
Joey Fatone (Season 4, 2nd place)
Drew Lachey (Season 2, Champion)
Bristol Palin (Season 11, 3rd place)
Kirstie Alley (Season 12, 2nd place)
Kelly Monaco (Season 1, Champion)
Apolo Anton Ohno (Season 4, Champion)
Gilles Marini (Season 8, 2nd place)
Emmitt Smith (Season 3, Champion)
Melissa Rycroft (Season 8, 3rd place)
Helio Castroneves (Season 5, Champion)
The final slot will be filled by either Sabrina Bryan, Carson Kressley or Kyle Massey, who will be the "Viewer's Choice All-Star," to be determined by fan vote. So get to clickin' people!
Executive Producer Conrad Green says fans have been asking for an all-star season for years, but now the show finally has enough heritage to produce the "perfect" cast. "We got the best of the best," Green gushes to the room. "We got the best personalities, the best dancers. We had a wish list and we pretty much got the wish list. All were willing to take part. It's a testament to how much they enjoyed doing it." 
Now in it's 15th season, DWTS has had over 130 celebrities spin, shimmy and shake on their stage. Green boasts, "This is our version of The Avengers. We tried to focus on the people who went further in the competition, who had the most ability. It will be an intensely competitive season." 
Check back to Hollywood.com on Monday, August 27 to get the full list of the celebrity/professional pairings!
Follow Leanne on Twitter @LeanneAguilera
[Photo Credit: ABC]
MORE:
12 People Who Really Should Do 'Dancing with the Stars' (But Probably Never Will)
Catching Up With 'SYTYCD' Alums: Where Are They Now?