'Dancing With The Stars' Recap: And The Winner Is…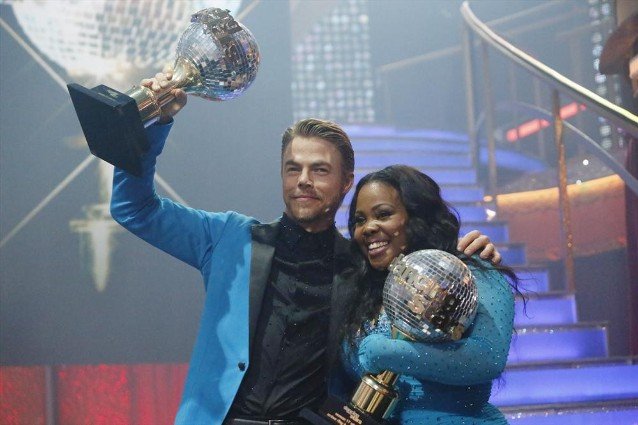 ABC
My eyes are still recovering after four hours (four hours!) of sparkle exposure. (I complain, but I love it.) Part I of the DWTS finale was pretty jam-packed: in addition to their judges' choice dances, the four finalists had to do a samba relay challenge and a freestyle challenge.
The judges' choice dances were interesting to watch: the judges chose something they wanted to the see the competitors work on improving. We got to see repeats of old dances – most contestants improved, even Bill, who managed all nines. Next came the Samba Relay. As with many challenges, Corbin and Karina reigned supreme, though Amber got points from Carrie Ann ("That was some nice undulation going on"), and Bill got an honorable mention for briefly shakin' it with Derek.
The freestyles, as it turned out, were the main event for finale part I: they were basically an invitation to go all out. Bill and Emma went first, doing a rousing rendition of the Indiana Jones theme song, complete with multiple whips. Then came Corbin and Karina, who did a crazy (crazy good) Michael Jackson-meets-Cirque du Soleil routine to "Smooth Criminal," which blew everyone's socks off, then Jack and Cheryl with did a "showstopping" (according to the judges) hat-and-cane number, and finally, Amber and Derek finished things up with a Western-inspired saloon number – Len called her "Class, fast, and built to last" (now imagine it in a British accent). Aside from Bill, perfect scores were to be had all around – the dancers really had fun with their freestyle, and it sure showed.
 After the numerous challenges came the dreaded elimination. Corbin and Karina and Amber and Derek were predictably safe, leaving Jack and Cheryl and Bill and Emma sweating under the lights. This time around, the reign of Bill Engvall finally came to an end: he was sent home. I'm quite glad he stuck around for so long – he was so well-liked by, well, everyone; his levity and charm made him compelling. And he and Emma had an absolutely adorable relationship; at the start of the episode he admitted, "I have a new best friend and fake-daughter," and after his elimination he echoed the sentiment.
Now, without any further ado, on to part II…as a first time DWTS-watcher, I was completely unprepared for the bonanza that lay ahead of me. It was quite the event – all of the contestants came back to dance encores, and there were live performances about with huge names including Lady Antebellum, Enrique Iglesias, Ylvis (which brought about the resurrection the ever-excellent Team Foxing Awesome), and Colbie Caillat.
Though with all of the replays and encores, we never lost sight of the true challenge that lay ahead: the fusion dances. Corbin and Karina took the stage first, with a cha-cha/foxtrot combo – it looked perfect to me, but apparently he missed a step at the end that led to nines as opposed to tens. Next up, Jack and Cheryl performed a Paso Doble/Salsa dance. Upon finishing, they got some pretty high praise from Len: citing his improvement week to week, Len told him, that out of al the dancers, "You have given me the most pleasure to watch." Finally, Amber and Derek did a near-flawless samba/quickstep concoction. Fun and energetic, it earned them a perfect score.
And finally, after much ado…the moment we've all been waiting for: the bequeathal of the coveted mirror ball trophy. Jack ended up taking third (he tied with his sister!), while Amber took the lead and Corbin second. Not a surprise, I guess? We knew right out of the gate that Corbin and Amber were the ones to beat (though to be fair, it was fun to watch Jack, the dark horse, come so close to the top). Quibbles aside – I mean, who can blame a reality competition for being predictable? – Amber definitely deserved the win; and let's hope she keeps on dancing!