'Dancing With the Stars' Recap: Len's Fightin' Words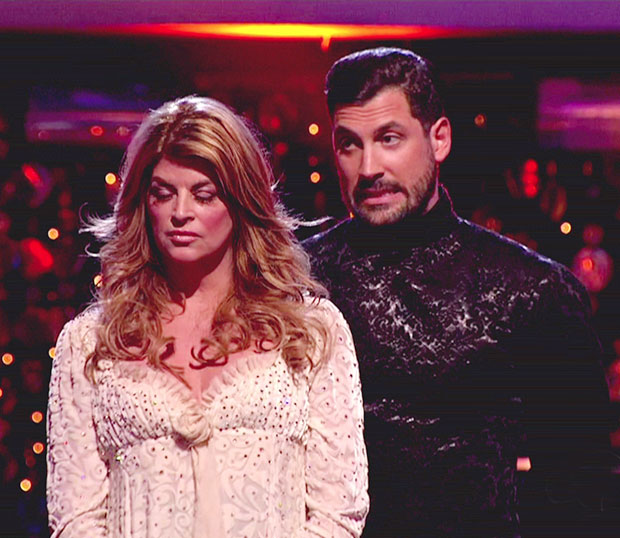 Dear diary, my heart is in pieces. America, how could you do this to me? I thought Sabrina's elimination was bad but tonight's second elimination was nothing less than shocking. Let's get it out of the way now: Gilles got the boot, taking with him the perpetually nude Peta. Okay. Start your tears now. Let's get the fluffy stuff out of the way so we don't have to face the pain quite yet.
Was anyone else a little surprised that DWTS didn't play up last night's little score controversy by putting Shawn and Derek in jeopardy? It should be right up the producers' alley to toy with our hearts like that. Or maybe they realized no one would have believed the Dynamic Duo was actually at risk.
Also, I just want to point out how awkward it is to watch Kelly get interviewed lately. I don't know if it's her blossoming love affair with Val or if she's legitimately nervous, but she's acting like she's been borrowing Lindsay Lohan's Xanax. Don't get me wrong, she's a wonderful dancer, but girlfriend needs to hire an interview coach or something.
Anyway, in the world of Things That Are Really Obvious And Not At All Heartbreaking, Kirstie and Maks were the first couple sent home tonight. I hate to say "I told you so" but it was high time they went home. Sure, I loved making fun of Kirstie's horrifying idea of sexiness each week, but at a certain point it just isn't fair to send more talented celebs home in her stead. I'm not saying she's Bristol Part 2 – Kirstie has spirit and dedication that Bristol completely lacks – but this is the point in the competition where it starts getting serious. It was time.
It wasn't time for Gilles and Peta, though. Seriously, America, you voted for Emmitt "I Can Wiggle My Hips But That's About It" Smith over Gilles? And over Apolo, for that matter? I thought the Sabrina elimination was questionable but this is absolutely ridiculous. Gilles has consistently scored high scores, earning multiple perfect 10s, and takes the most risks of any of the male dancers. He shouldn't have gone home, plain and simple. Ugh, America. UGH.
Double eliminations aside, we have so much to look forward to in the semis. For next week, each couple has to perform a dance they've never done before. But here's the catch – they have to fit it into a certain theme. Think "caveman" hustle and "espionage" lindy hop. Some couples can definitely handle it – Shawn and Derek have enough charisma to make a "zombie" tango look phenomenal (regrettably, that's not a real theme). Others, though, might not have the stage presence, or lively expressions, to really make it believable. I'm looking at you, Kelly.
Either way, the season finale is creeping up on us, and you know what that means: more drama, more inappropriate comments from Tom, and more bizarre props and costume. One can only hope they reprise the onstage donkey…
[Image Credit: WENN]
More:
Dancing With the Stars: All-Stars Recap: Three's a Crowd
Dancing With the Stars: All-Stars Recap: Indecision 2012
Dancing With the Stars Elimination: Imma Let You Finish But…

'Twilight Saga: Breaking Dawn — Part 2' Star Kristen Stewart on 'Twilight' Finale: I'm 'Desperate' For a Job Now (VIDEO)
(Celebuzz)