'Dancing With the Stars' Sabrina Bryan Talks Dreams of A Second-Chance Dance — EXCLUSIVE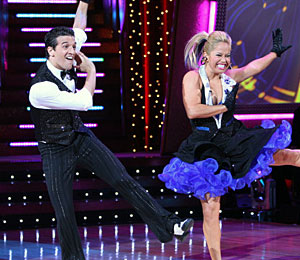 If you had a second chance, would you fight for it? Would you endure throbbing muscles, countless bruises, and sequin-induced scratches? With the 15th season of
Dancing With The Stars
 premiering this fall, one competitor is willing to endure a consistent cloud of spray tan and hairspray to prove that she has what it takes to be the best of the ballroom.
Hollywood.com
exclusively chatted with dancing hopeful
Sabrina Bryan
 about how she's ready to shimmy, shake and spin her way into the all-star season of
DWTS
.
Most notably remembered as a member of Disney's The Cheetah Girls, Bryan is one of three "Viewers' Choice" dancers that fans can vote on to fill the 13th all-star opening. The actress says she is thrilled to have a chance to earn her spot as a competitor on the 15th season. Bryan gushes, "To even be considered somebody who was on the level of an all-star is absolutely amazing to me, so I'm really, really touched that I'm even having a chance to actually be voted on."
DWTS host Tom Bergeron is excited for fans to have the opportunity to control the fate of the three dancers. He says, "I love that, I really do. I think it involves the viewers directly and gets them engaged." Bergeron told us he feels like this vote is a chance for Bryan to get some much-needed retribution. "If it were Sabrina, it would be a wonderful opportunity for her to kind of get revenge for the complacency that I think got her voted off," the long-time host says with a smile.
To refresh your memory, here's a mini DWTS recap: In the fifth season, Bryan quickly took the lead in the scoreboard and was considered by many to be the favorite who would walk away with the mirror-ball trophy in hand. However, fans and judges were absolutely shocked when Bryan and her professional dancing partner Mark Ballas were knocked off the show in the sixth week.
It was a lack of votes that led to Bryan's premature departure on the show, so it seems only fitting that she needs America's votes to get back on it. The Orange County native says, "My biggest goal is just to dance for the fans because honestly I left really early in the season and the support they put behind me is unbelievable." Bryan continues, "I'm representing that second chance dream that everyone wishes they could have that second stab at."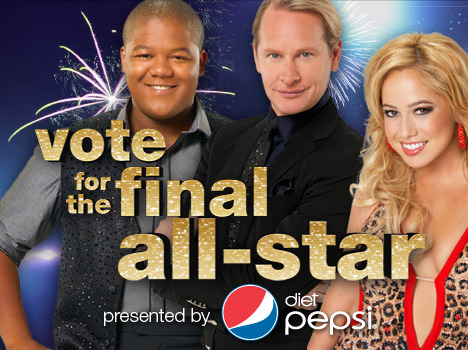 To say that Bryan dominated on her season of DWTS would be an understatement. In the first week, Bryan and Ballas received a score of 26 out of 30, which at the time was the highest score earned in the first week by any contestant. In week four the duo set another record by receiving a 30/30 from the judges on their paso doble, making Bryan the first contestant to have received a perfect score that early in DWTS history.
Although Bryan is itching for her "second-chance dance," the 27-year-old is realistic about the hurdles she needs to leap over. "For me I'm just trying to get on this show. I can't even think about competing, I'm just trying to get on it," Bryan explains. "I'm not even worried about breaking records as much as I'm just really hoping to prove myself to [the fans] and give them a really good show and just pretty much dance for the whole season."
For the past four months, Bryan has been performing in the Dancing With The Stars: Live in Las Vegas show at the Tropicana. And although Bryan has been perfecting her cha-cha and paso doble in Sin City, she admits that the other all-stars will definitely have the "upper-step" this season. "I'm doing the same style of dancing that I already knew from the show. All of the all-stars that are on it, almost every one of them have done more dances," Bryan admits. "Especially when it comes to the crazy hard dances of ballroom, I haven't done any of those. I have no idea what the hell I'm doing out there as far as any of those dances because I don't do them in Vegas."
Carson Kressley and Kyle Massey, the other two wild-card options, have also been performing in the Las Vegas show. Bryan admits she has some stiff competition: "I think what's so great about the three of us is we're drastically different kinds of entertainers. All three of us have great strength that we bring to the stage."
Bryan, a fierce competitor to say the least, is promising to spend every hour, minute and second perfecting her skills to give viewers consistently exciting routines each week. "I have unfinished business out on that dance floor and I couldn't be happier to get an opportunity to really go out there and hopefully kick some dance booty."
Dancing With The Stars fans can vote for their favorite viewer's choice all-star, five times a day at ABC.com until August 24.
Follow Leanne on Twitter @LeanneAguilera
[Photo Credit: ABC]
MORE:
'Dancing With The Stars' Announces Season 15 All-Stars!
12 People Who Really Should Do 'Dancing with the Stars' (But Probably Never Will)