'Dancing With The Stars': Tom, Brooke, and the All-Stars Out For Blood — VIDEO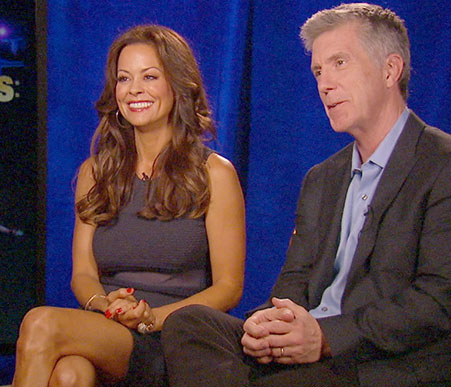 Yesterday, as Americans mourned the tragic death of the London Olympics, our nation's second most important competition —Dancing with the Stars — came to the rescue when it finally announced the celebrity/professional pairings for its upcoming all-star season. The competition will be fierce: You have past winners like Emmitt Smith, Kelly Monaco, Drew Lachey, Apolo Ohno, Hélio Castroneves, and Shawn Johnson, as well as vengeful runners-up like Gilles Marini, Joey Fatone, Kirstie Alley, and Melissa Rycroft. And then there's Pam Anderson and Bristol Palin, who probably just don't want to embarrass themselves. There are fragile celebrity egos on the line, and the fact that many of the contestants have never even been in the bottom two makes the stakes just so much higher. It's delicious.
Hollywood.com sat down with some of the contestants during ABC's TCA conference, on the day the cast was announced. But first, we chatted with the almighty Tom Bergeron and his trusted sidekick Brooke Burke, and they let us in on a little secret: They're hoping this season is an all-out bloodbath. "I'm hoping for a level of competitiveness and pettiness that we've rarely seen before," Bergeron said. Well, something tells us Bergeron may get his wish — after our conversation, we showed our maturity by telling the contestants that their rivals were saying bad things about them. Will our words make a difference? That remains to be seen, but either way — in the immortal words of Bergeron — "It's going to be a spray-tanned roller coaster."
Check out the interviews below, and be sure to check back for our chats with Pam and Bristol later this week!
Follow Shaunna on Twitter @HWShaunna
[PHOTO CREDIT: ABC]
MORE:
'Dancing With The Stars' All-Star Pairings Announced
'Dancing with the Stars: All-Stars' 101 with Louis Van Amstel
Who Will Win 'Dancing With the Stars All-Stars'? Readers Decide!